Hi!
Just completed my Lada 1200 / VAZ 2101 project and posting here my workflow for your enjoyment. It is long time since I visited SF, I just wonder how many slot racers have moved to social media and how many are sticking to these forums. Anyway here goes.
More info about this car can be found here:
https://en.wikipedia.org/wiki/VAZ-2101
This car was based on Fiat 124 and was one of the better cars produced in Soviet Union. VAZ 2101 was also exported to other countries as affordable economy car. The Lada 1200 was quite popular in finland and had the reputation as being good winter car. Lada would most propably start in freezing temperatures as western cars would need help.
Project actually started as I discovered pretty good 1:32 die cast Lada 1200 at local hardware store. It was manufactured by Saico. Metal body required lots of sanding and prepping. Doors were opening type and had to be secured to their proper places and panel lines had to be adjusted to be perfect. Huge amount of sanding.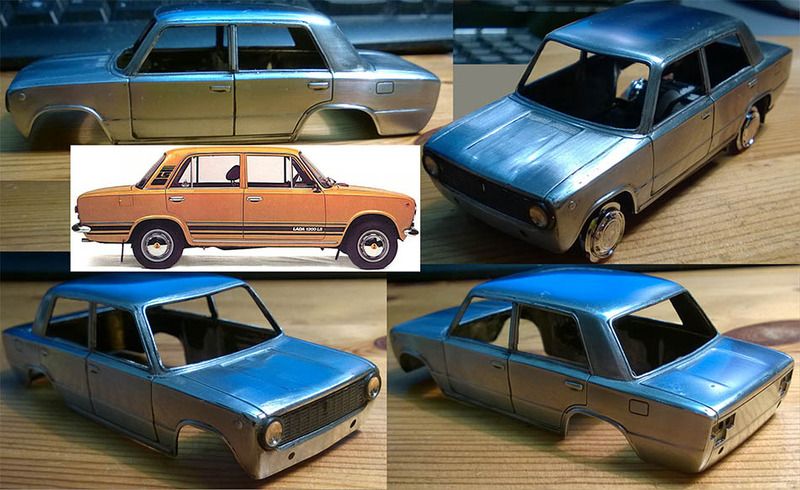 At the picture below you can see two-part mould produced. I was in hurry to produce the first version of the car as I was able to pull the bodies out of mould. Two part mould is constructed in that way that the body mounting posts are formed during casting process with nylon M2.5 standoffs. I am also able to make the body very light and durable, during casting the mould is filled with glassfibre cloth which is formed to re-enforce the body. Result of the casting process is very thin and very durable resin body. Trimming is easy, window areas are paper thin and can be cut out with hobby knife, no dremel needed.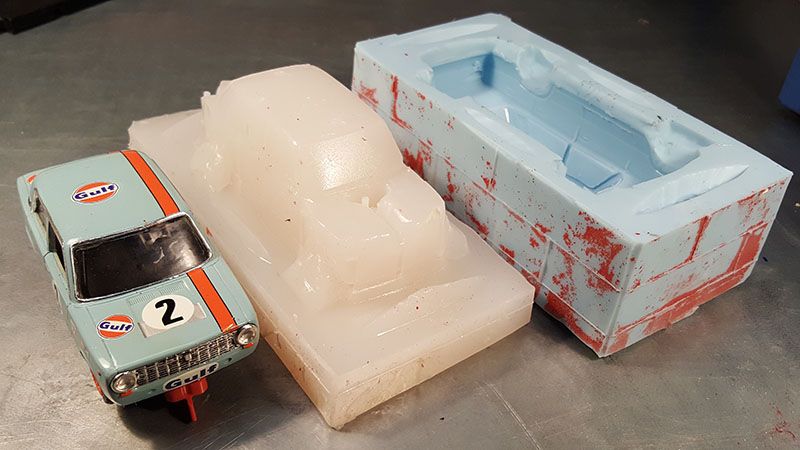 I was in a hurry to get the first Lada going so I installed PinkCar VW Beetle chassis for the first body and painted the body with Gulf colours. As we were racing Euro car series (max yer model-78) at our club I registered the Lada as Fiat 124 and had great fun.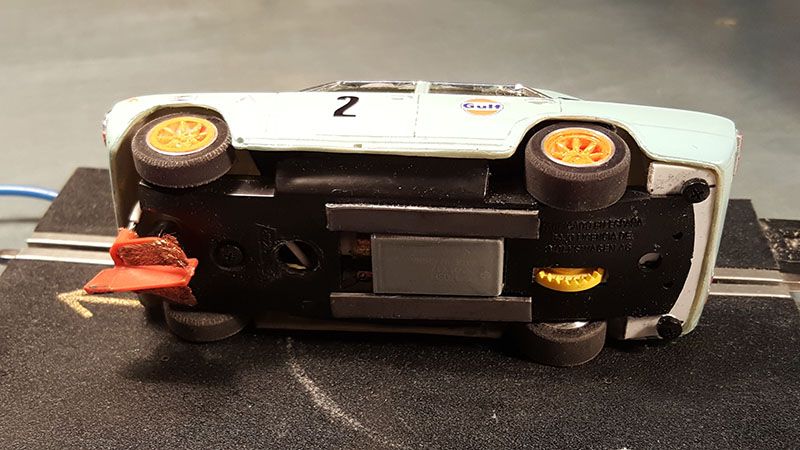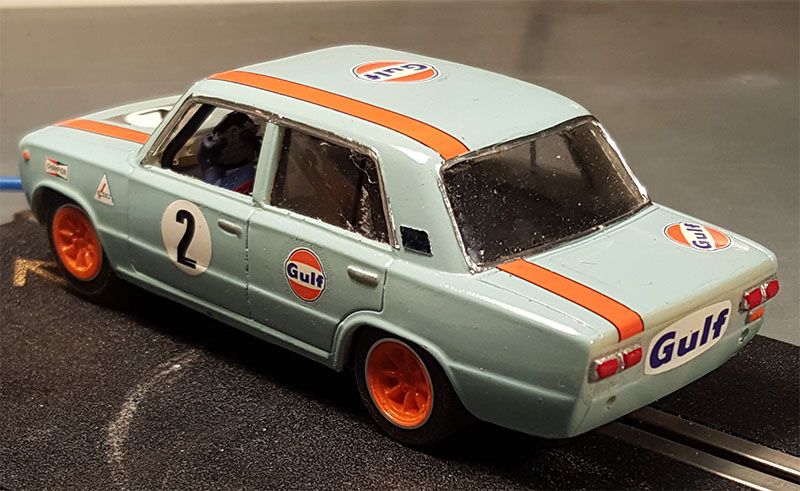 At this stage lots of people were requiring me to produce mode Ladas but I had to solve the problem with chassis. Chassis is best to design in 3D so you have a better idea where everything is going. For 3D chassis design the body was first scanned with laser scanner.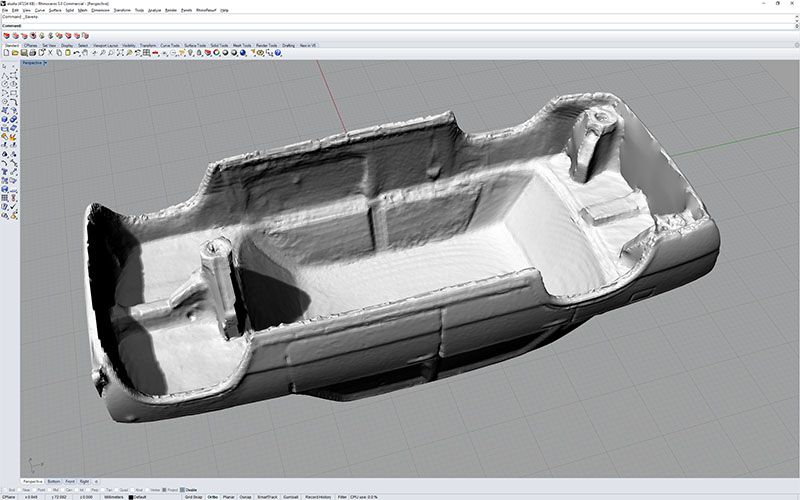 Now I could turn the body as a transparent object and design the chassis. As I want to produce this car as easily and as cheaply as possible I selected 2mm axle system and 2mm bore inline gear. Motor selected was mabuchi-S used by Scalextric. Rims are special aluminium rims ordered from a local CNC shop.
As the components were selected they were modeled in 3D and chassis was drawn keeping in mind that aim was to produce it as a printed circuit board.
When the chassis was finished I had to transfer the components to a PCB design program. 3D was done with Rhino3D and PCB design with KiCad. At the picture below components designed with Rhinoceros and lots of dimensioning.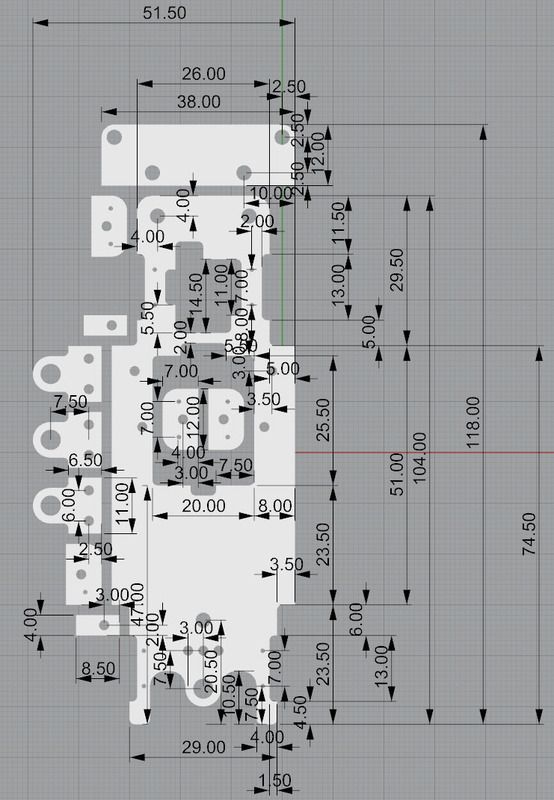 These components were transferred to PCB (prined circuit board) program and drawn as one PCB.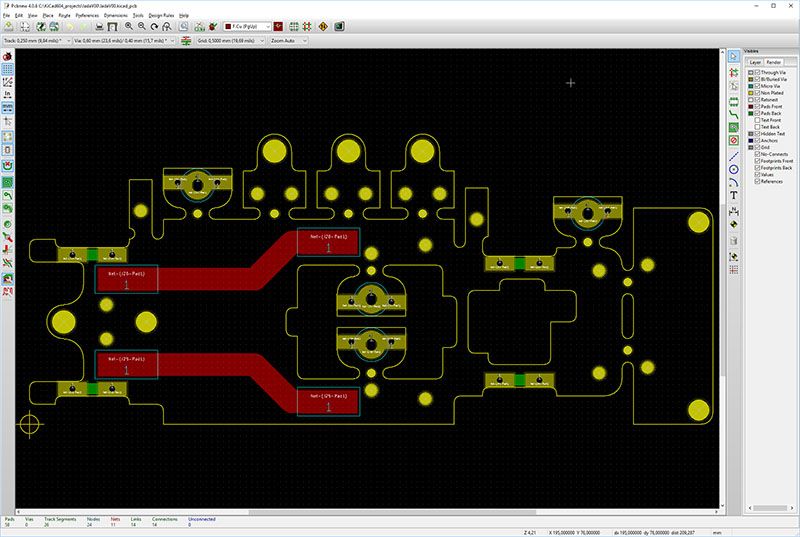 The design files were sent to China for manufacturing and within one week I had the chassis component PCBs.
At the picture below the components are separated and ready for assembly.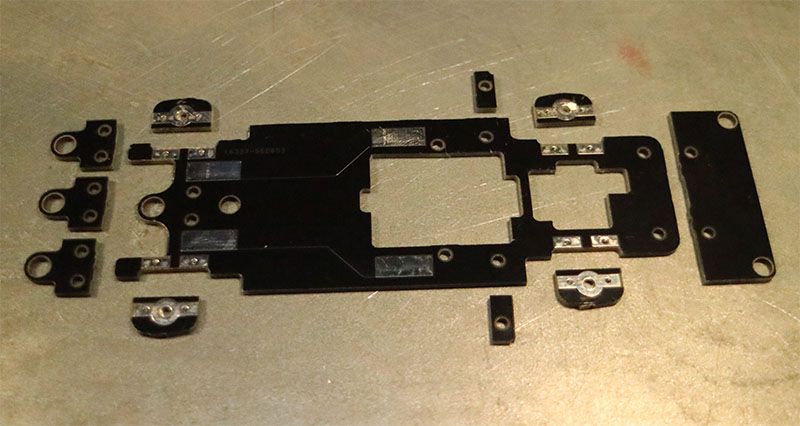 And below the half-assembled chassis can be seen. PCB parts act as bearings, axle and crown gear are 2mm stuff.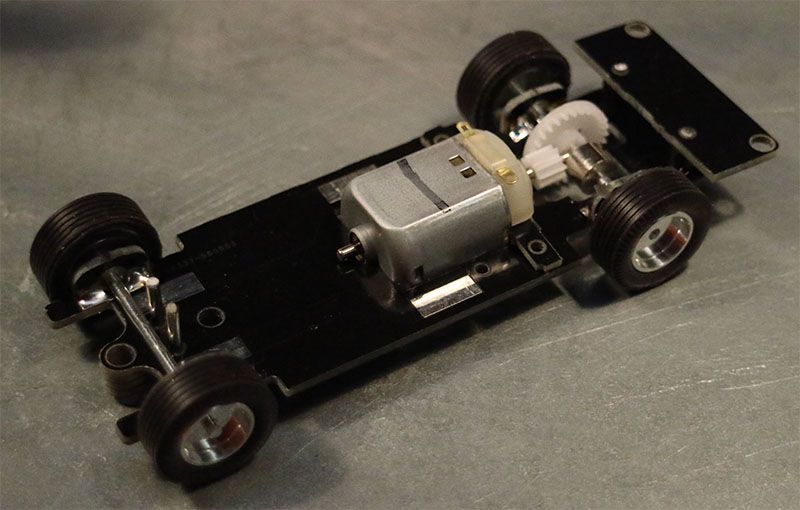 Fitting the body on the chassis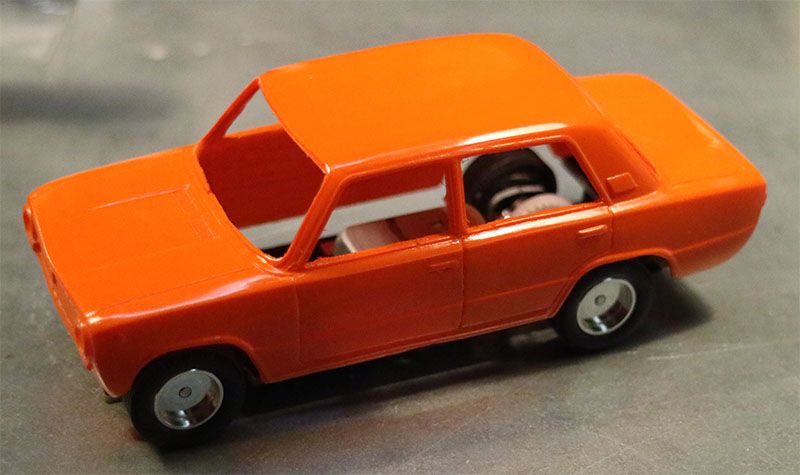 Competed car can be seen at the picture below. Windshields are vacformed plastic sheet, windshield wipers soldered metal wire, rearview mirror wire and a piece of PCB. I had produced mould to produce inserts and bumpers so thos are painted resin parts. Guide is ScaleAuto. Tyres are copies of SCX Escort tyres and are Vytaflex 40 polyurethane resin. Interior is a half-pan copy of the interior of the die-cast model. Driver is a resin copy of a Scalextric driver. Steering wheel is resin part as well. LOTS of work has gone into this car.
I did not know how the chassis would perform and how much weights it would require so track test was required.
Our club track is Scalextric Sport track and I was surprised that Lada did not actually require any extra weights. My resin body is very light and centre of gravity is kept low even though the car is quite high. The Lada is also very narrow car but despite this driving experience was very good.
You can watch Lada test laps at the video link below:
This was a fun project, now the tedious part begins as I have to produce this car to other club members.
Cheers!
Julius