Hello everyone
A few weeks ago I was watching the second round of the BTCC season fro Donington Park. Watching the Mercedes cars battle with the BMW made me think, they're not really that different, are they? Obviously, there are differences, but the general shape of the cars is similar. With Scalextric seeming reluctant to offer us any new body shapes in their BTCC range I thought I'd take the initiative and get cracking on my of my favourite cars from the series - Aiden Moffat's Laser Tools Racing Mercedes A-Klasse.
I'd recently prepared a new standard spec BTCC BMW for digital racing, and my old hack Tordoff BMW (which I wrote an article about in 2016;
Scalextric BMW 125 Series 1 BTCC
) was just sitting in a drawer. Having undergone various mods for wood and plastic racing and now doing nothing, it was a likely candidate for a rebuild. I took a little while to decide how far I would go with modifying the body, and in the end settled for a new grill and a repaint. I decided replicating the rather intricate livery would be difficult enough!
I took the grill from a Carrera DTM Mercedes. After cutting to size and opening a new, larger aperture, it was simply fitted to the existing Scalextric part which joins the two headlamp clusters together. On the standard model the BMW grill is moulded in so the plastic I used would normally be redundant in occupying this space, but in this case it's found it's true calling.
I'd briefly described my frustrations trying to remove the existing paint / decal decoration here
Current Scalextric Decoration Removal
. After 24 hours in Ispropryl I gave it a rub-down and went straight for the primer even though more then half of the original decoration remained. I was hoping it'd be ok.. and as it turned out it pretty much was. Quite a lot of paint on this car. Grey primer, gloss white, pageant mid blue, satin black, satin lacquer and gloss lacquer.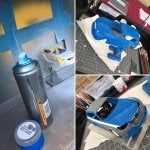 The 2018 Laser Tools car is decorated in chrome blue. I made a half-hearted attempt at trying to find some chrome blue paint, and in the end the only one I identified was too dark by my judgement. I settled for a medium bright gloss blue from my aerosol stores and decided I could best maximise the finish of the body by twin-lauqering the car after paint; satin for the black and gloss for the rest. It wouldn't be 100% accurate but it would hopefully make the colours pop and look rather nice. I always say my cars are representations, not replicas, and if we're going to count rivets then we can't ignore the fact this is really a BMW anyway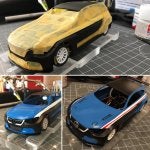 While waiting for all of that paint to dry I turned my attention to designing decals. As a semi-proficient graphic artist I was able to source, copy or draw all of the logos I needed in my favoured design software and sent the sheet of to Wraith for printing. Within two days there was an envelope on my doorstep and I had zero downtime from the last dry coat to the first decal applied!
As I started applying decals I really began to think the car was shaping up nicely. I decided to pick out the detail on the three pointed star with some highlight painting as I found it looked a little chunky and flat in the early stages. Much improved for five minutes of delicate brushwork.
Removing the existing driver's name and number was done using nail polish remover and a cotton bud. Eagle eyed visitors may notice fogging on the right side windows, this was from a previous (internal) superglue repair and nothing to do with this repaint project. Shame in a way, but nothing's perfect. The final job was to re-fit the lenses and glass.
I hope you like this car. I'm very satisfied with the result. Although I think it's one of the best jobs I've ever done, there were a few things I've noted along the way to do differently, should I decide to make a second go of it.