Double Dutch Digital racing in the Low Lands
For the 4th time the SRC Eindhoven will host the Dutch Digital event on the renowned Low Lands Suzuka Ninco track in their spacious club on the Sint Odulphusstraat 2b, 5682 AB Best, the Netherlands. As in 2017 the event will sport a double feature with GT3 racing on the saturday and the Suzuka 6hrs WEC endurance on sunday.
The Low Lands Suzuka Double Digital is a perfect opportunity for all slotracers on the Northern European continent to try Oxigen racing in an Endurance format and has become the place for the digital regulars to test their cars in preparation for the Oxygen Le Mans 24hrs in Henley in Arden.
For new teams the organisation can provide technical assistance on how to chip cars during Friday's and Saturday's free practice sessions and has several Slot.it controllers available for rent, if teams require them.
Suzuka GT3 Support race
As in 2017 the DiSCA GT3 cars with teams of either two or three drivers, will kick off the event on Saturday from 09:00 till 14:00hrs.
There will be one 60 min. Timed Practice session and two 60 min. Races with one mandatory pitstop of 1 minute duration.
Besides the above mentioned, full
Disca GT3
rules will apply for the Suzuka support race.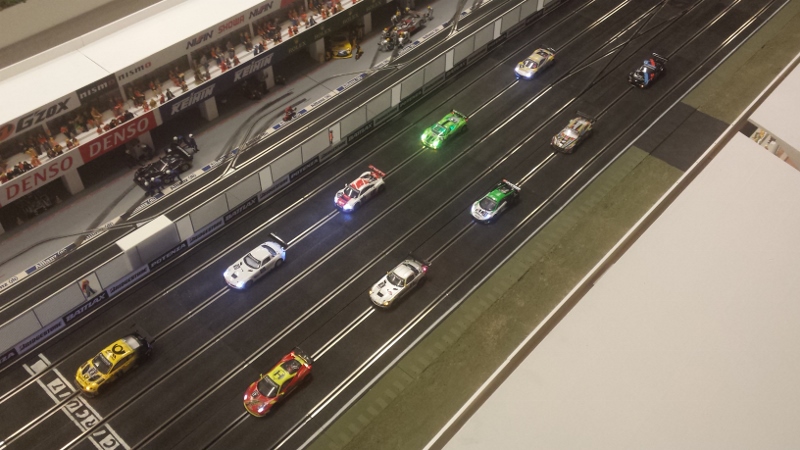 Start grid of the 2017 DiSCA GT3 support race, photo: Giovanni Rusello
Suzuka 6hrs WEC, Prologue to the Oxigen Le Mans 24hrs:
With the Suzuka 6hrs run under the same DiSCA WEC Sports Cars rules as used for the Oxigen LM 24hrs, it has proven itself as the perfect oppertunity for teams to test their cars. for "the Big one". With its banked corners and elevation changes the Suzuka track will bring different challenges for the teams in both set up and strategy.
Although most teams adapted their cars for Suzuka it was interestring to see that the top 5 at Suzuka all did score good results in the Le Mans 24hrs.
With free practice staring on Friday afternoon there will be plenty of time for teams to check out the track and set-up...or not...time flies when you're having fun.
Deviations from the DiSCA rulebook
Due to its shorter duration and the inclusion of a (GT3) support race, there will be a few deviations from the DiSCA rulebook for the Suzuka 6hrs main event.
Teams will be
hand out 1 motor
at random
(Flat-6 or MX-16)
These motors have been tested, matched and run in by Slot.it. Should in the unlikely occasion a motor be defective,
teams will recieve a new one from the organisation.
Teams will be
hand out 2 pairs of N18 and 2 pairs of F22
at random. Both compounds must be used during the main race. Hand outs will be available on Saturday after registering at the race control.
Although teams are free to run their own motors and tyres (of the same type and or compound) during free practice we advise teams to mount their handouts before the end of free practice
This way you'll be able to hit the ground running on Sunday morning.
If you use this option you will have to place the parts in the Parc Ferme overnight (can also be the whole car, chassis or pod with motor rear axle and wheels)
Pacecar leading the WEC cars on the formation lap of the 2017 Suzuka 6hrs, photo: Theo van den Hurk.
Low Lands Suzuka Double Digital Time Table
Friday 26 januari 2018
14:00 - 22:00 Free Practice WEC & GT3
Saturday 27 januari 2018: DiSCA GT3 / WEC 6hrs Suzuka Free Practice
DiSCA GT3 Sprint race
08:30 Doors open,
09:00 Driver's briefing.
09:15 Registration Controller & ID check.
09:30 Timed Practice (60 mins)
10:35 Tech inspection and Rostrum position choice based on best time from timed practice.
10.55 Line up Grid Race 1
11.00 Start Race 1 (60 mins)
12.00 Intermission
12:35 Tech inspection Race 2
12:55 Line up Grid Race 2
13.00 Start Race 2 (60 mins)
WEC 6hrs Suzuka Practice
14:00 - 19:00 Free practice/ Registration/ Hand out materials, controller/chip check & pairing
(note: handout parts must be back in the Parc Fermé by 19:15)
19:15 Close Club
19:30 - 22:00 Diner & Award ceremony GT3
Sunday 28 januari 2018, WEC Suzuka 6 hrs Endurance
08:30 - 09:30 Free Practice for teams that did not participate in Saturday's WEC Practice session
Hand out race motor & tyres, controller/chip check & pairing
Release cars/parts from Parc ferme. of teams that attended Saturday's WEC Practice session
09:35 - 09:45 Racebriefing
09:50 - 11:30 Timed Qualification & Technical Inspection
11:35 - 11:50 Concourse & Team photo's, Driver Rostrum selection based on qualification result.
11:50 - 11:55 Grid formation
12:00 - 18:00 WEC Suzuka 6 hrs Endurance
18:15 - 18:30 Award ceremony .
Driver rostrum during the 2017 Suzuka 6hrs, for 2018 the number of driver positions had been extended to 15. photo: Theo van den Hurk.
Entries & Registration:
Registration for the 2018 event will open on October 28th, 10:00 (GMT+1). Teams that want to enter this event will be able to apply via the online entry form that will be posted here on that day.
For the 2018 edition a max. of 15 applications will be accepted for the 6hrs WEC race on a first come first serve base, with a further 4 applications placed on the reserve list.
Entry fees will be €80 for the WEC race and an additional €20 p/team for the GT3 support race
Accepted entries are required to have payed their entry fee in full by November 28th , in case of non payment the first team on the reserve list will be granted an entry etc etc.
Final instructions, including the final entry list, firmware for chip and controller, and any travel considerations will be issued to team captains on Jan 5th.
I will be more than happy to answer any "international" queries here on the forum or via PM.
Paul vd Hurk (Dutch Touch, SRC Eindhoven) will handle enquiries via email at
[email protected]
You can also follow the developments for the Suzuka Double Digital event via the
SRC EIndhoven Facebook page
On behalf of the Src Eindhoven
with kind regards
Tamar
Update Oct 28th 10:00 Click on the link below for the online registration form
https://docs.google.com/forms/d/e/1FAIpQLSetokXcTGdrDzzqmggQ-K1F3nR8tptV5Z8Fimw_F3V8n7GnNg/viewform