Discussion Starter
·
#1
·
Ok I guessed it was time to do an Update on my tiny track. I got it taped and it is now powered by two Scx standard wall plug thingies
. The controllers are of an old Le-mans set.
Well Today I went to the local Wallmart (1hour away!
) and found these Motobikes in 1/32nd I got 5 bikes there on the spot
My dad had already got me a Vespa 125cc about a week ago
And I got an Aston Martin Dbr9 scx But enough about that stuff and more about the track.
Its on an 8x4 ft board with no elevation and two lanes. The scenery of the track is kinda going to be a what if scenario. Basically I want it to be a Modern european targa. So the racing will kinda be held on a classic town style circuit with modern and classic cars. So I am trying my best at making the track look old and weathered (Not finished yet).
This sis the top end of the circuit. Where the black building is with the cars is going to be a museum type building with the History of racing kinda theme going on in there. I am currnetly making some grass out of sawdust hehe
to fill the areas out a bit.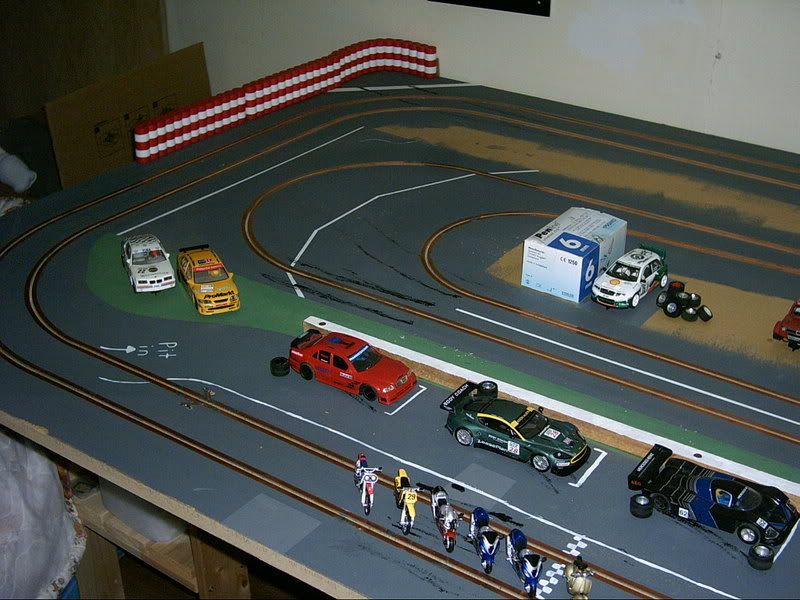 Here's the bottom of the track. It show's the Pitwall idea I was after for it. Basically I just want it to look like a tempory set up. The Fia barriers are not meant to be here permenantly I just didnt want to see flying cars go airborn into a solid floor/wall lol. The skoda is sat in an area that is going to be a tyre centre. I am basing it on a small tyre company I remeber from France. They Invited us in to watch a classic car race around their town centre. Too bad they dont make a Morgan 3 wheeler slot car to race lol.
Thanks for looking. Please comment as I need some more help.
Thomas