Discussion Starter
·
#1
·
I've now finished the 2nd in a series of Sports cars from the Thirties.
This time it is the very tiny (Yes John it is Tiny), MG TC.
The kit is again from the excellent Matchbox Series, but is much more difficult to convert into a slot car than the earlier car I put together, the Jaguar SS100.
Why more difficult?...........This car does not have a single piece chassis, wing, running board sub structure like the Jaguar, so it is necessary to build a good proportion of the car as a static model and then dremel out the sections you don't require to accommodate the chassis. There is a fair bit of waiting time with this model as you have to reinforce certain sections so that it can stand up to the rigours of racing.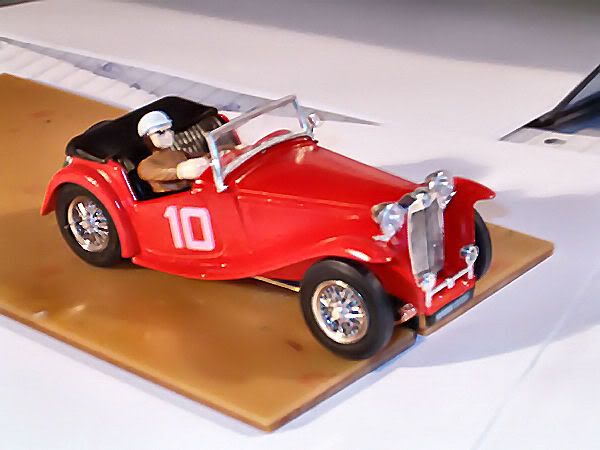 The chassis is again brass rod and sheet brass with PcB axle shoulders. Front axle is mounted into the body structure. Running gear is Scalex MOTOGP motor with Slot.it crown.
Now I'm sure by now many of you have changed the wheels and tyres on your Scalextric Maserati's for something different.........I chose to use mine on this car and they are just about right for diameter(perhaps a little small) and width.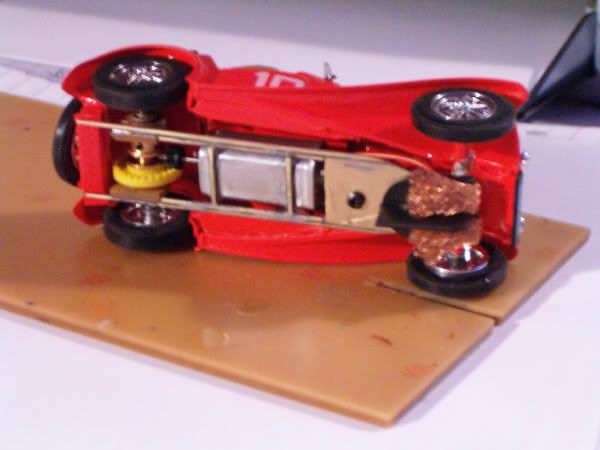 Although I've got about another 5 kits of this era to complete, I'll leave them for a while as I fear the lure of Lexan is calling...........
Regards
Alan