Discussion Starter
·
#1
·
I have finaly finished my routed track, (Umm..is any track really finished?), and thought you might like to see the photographs.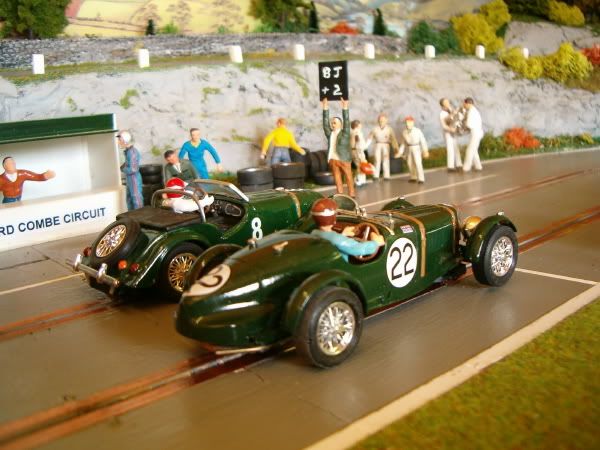 The start line, with tyre dump in the background. A couple of "Big strong boys" are manhandling a MG TC engine to their pits...Yeah right!.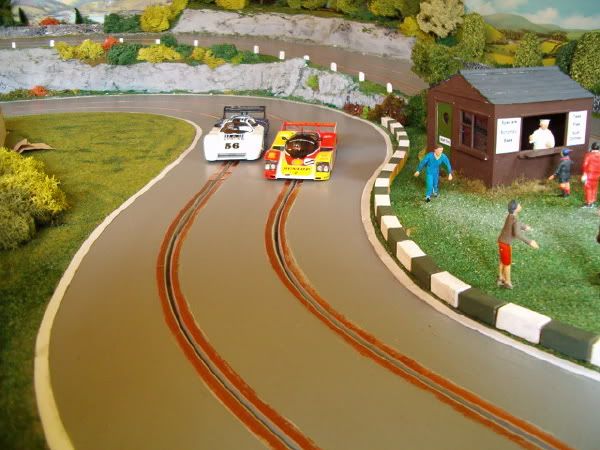 The exit of the first bend and the start of the "esses". The tea hut is now complete, (and has a queue of potential customers). The roof is finished in traditional model railway style, i.e strips of plasticard are cut and scored, then laid as you would a real roof. Ridge tiles are made from brass rod, cut in half, scored and painted. Not bad seeing as it started life as the bottom half of a Scalex Control tower.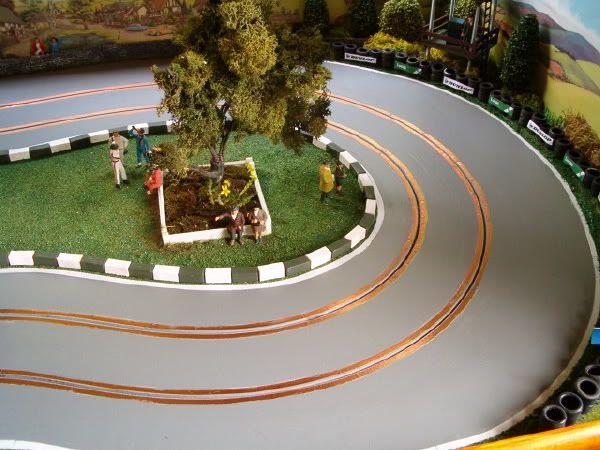 The bottom hairpin. The green and white boundry wall is in fact painted Brittains Haybales!. I got the idea from watching Bike racing from Mallory, where they have something similar on their hairpin. The tree is now surrounded by a plasticard "Planter" which has real moss in it. Also an Alpine plant has now come into flower....I must remember to water it.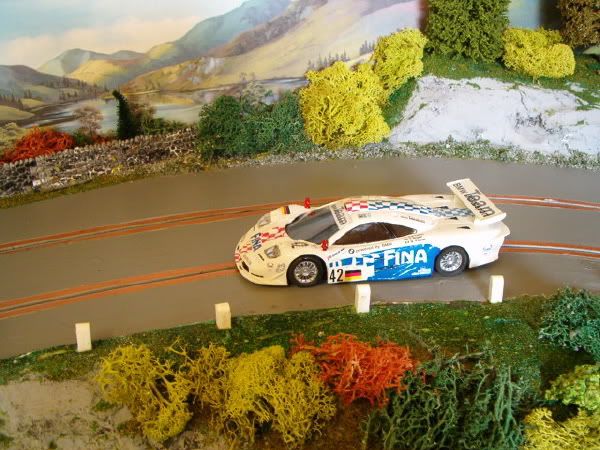 Corner at the top of the rise (100mm), just before the main straight. Very tricky corner to get right. You can loose a lot of time here.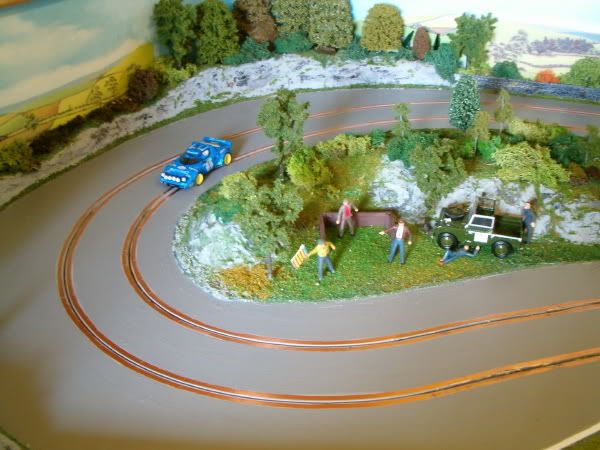 Trickiest corner on the layout, a decending adverse camber bend that tightens on exit. If you get the entry wrong you are into a plaster wall. The marshalls shelter is made from bits of old fencing, glued together to form a traditional sleeper marshalls post.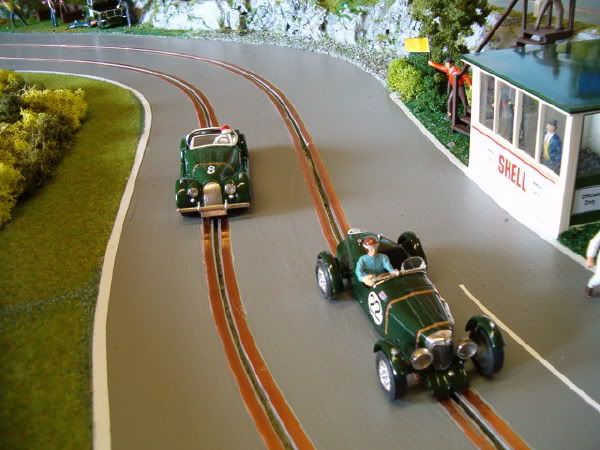 Small "Esses", before the start finish straight.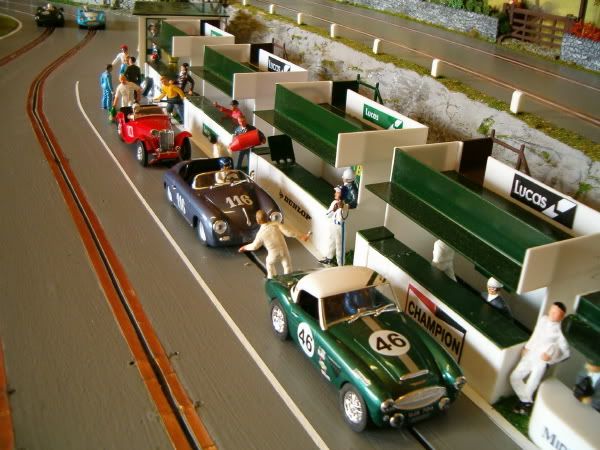 The pits. Now populated with a mixture of figures from Scalextric, Revell, Airfix, Brittains and some dodgy French Blokes. Signage was stolen from Brands of the World and printed with an old Inkjet printer.
That completes the lap but here are some other shots of new bits :-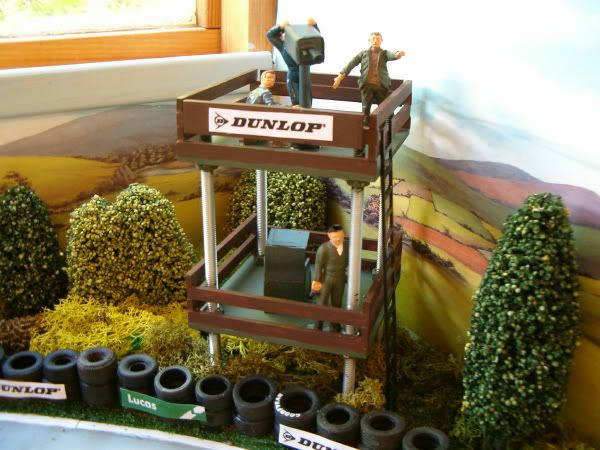 TV tower. I was not prepared to pay the silly prices being asked for genuine Scaley Towers, so I got this one from Ebay. It arrived all bright blue and yellow and a Fosters advert!...So I reduced it's height repainted it and added a camera, monitor and crew. The camera is made from a Haybale, Half an old Scaley Mini wheel and bits of Sprue. The monitor is made from spare scraps of Plasticard.
I found this old scratchbuilt Marshalls hut on Ebay, and felt sorry for it as no one made a bid for it. Looks pretty much at home in that corner.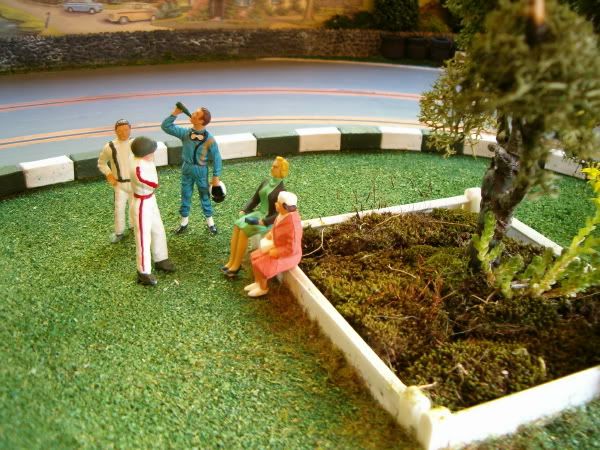 The plasticard planter, complete with drivers relaxing with a beer and some female company!....Nice to see her Mothers present.....
Well that's it....Hope you enjoyed it.
Regards
Alan