Discussion Starter
·
#1
·
My friend Tony managed to unpack his two old slot boxes that had lain lonely and forgotten at his family home. We queued up in the rain outside venerable old Howmet Towers in deepest Twickenham to ask the experts at Antique Slots Road Show their opinion, and get an eyeful of Fiona Bruce's gams while we were there. Trying to look as innocent as possible, and avoiding the 'how much is it worth- just for insurance purposes you understand- but if I were to sell it all when do get the money?' question, we listened patiently to learned expert Felix Bowtie from Sotheby's Slot Car department. His opinions were as follows;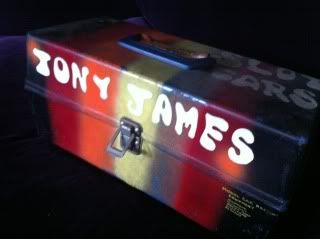 'Hmmm... DIY toolbox, circa 1968, probably from Ian The Ironmongers on Whitton High Street. Beautifully spray painted and lettered in the 'psychedelic' style of the period. Shows much usage, although the paintwork is restorable. It may interest you to know that Sir Herbert Acne RA used just such a box to interr the ashes of his old gardener and helpmeet Dick Mulch in the grounds of Bugler Hall.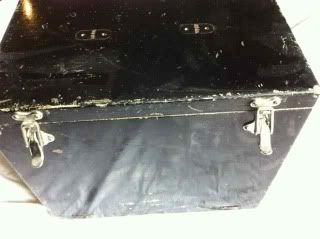 'Now this is even more interesting. It appears to be an entirely handmade and purpose built slot car box, plywood and black household enamel paint. Hard to date, but from the quality of the plated fittings, I'd say, uh, 19th or 20th century. Possibly a lot earlier. But certainly not a great deal later. These are not common at auction. Can't understand why...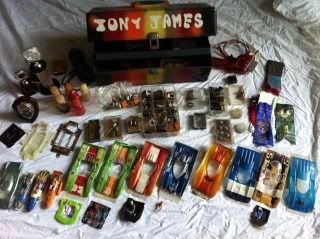 'Ahh, now the contents of those boxes! Ah dear me! One can smell the oil of wintergreen, the Tiger's Milk and 3-in-1 oil. An altogether splendid collection of slotcar artefacts and trophies from the absolute golden age of slotracing, again, somwhere between the early 19th and late 20th or possibly early 21st century if I'm not mistaken.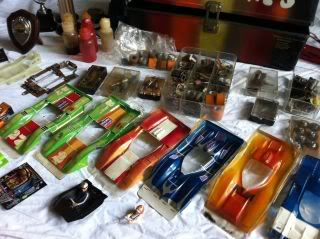 'In closer detail, we see the detail work on the handpainted bodies, and the legendary 'Pharoah's Mummy' driver in the lower left corner, handwrapped in thin tissue paper bandages. A whimsical yet craftsmanlike artefact typifying the surreal sense of humour of those bygone days...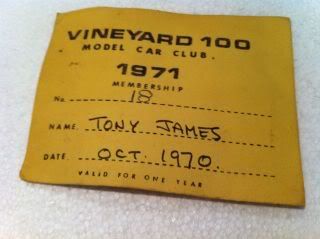 'And here we have an important historical document, very useful in providing provenance to the whole collection. We even have a date clearly written here, which proves my original estimate exactly right- that this collection was assembled sometime between 1800 and 2010. The Vineyard 100 was an extremely important slot racing club, well known to us historians. In fact I can add a great deal of information to what is printed on the card, since from my researches I know that the Vineyard club probably had a 100 ft track, and operated in the early 1970s, if not a little earlier and somewhat later. Thank you. It is difficult to appear modest and yet flamboyant on national T.V. you know.'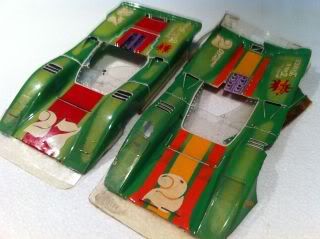 'Yes, now let me see. 2 of the very popular McLaren M8A bodies. But from tiny differences in appearance, we see that they are from different manufacturers. A little worse for wear, but restorable, I think'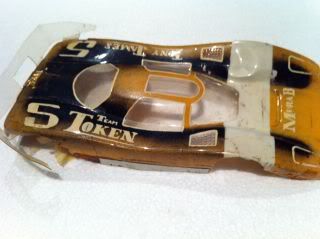 'Very interesting. A McLaren M6GT with distinctive spray paint and handwritten legends. It was originally powered by a Mura B can I see. And was driven by -er-Team Token. Yes- it's the result of long, hard study. It is not just a gift that I know all these things!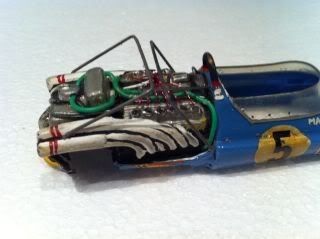 'Last but not least, we again see the attention to detail in these mah-vellous old pieces. Full engine wiring and Aerodynamic wing supports. The days of this kind of craftsmanship are entirely gone, don't you know?
We did ask how much it was all worth, but Felix wanted us to sign a contract before he would give an opinion. Something about confidentiality and a 90% fee in all transactions. Luckily my pen had run out, and we made a hasty retreat, using Fiona Bruce as a human shield.
Good stuff though, innit? I'd love to do it all over again, but this time without the acne.