Kevan that old racing game looks amazing! What production quality for that old game. Must have been a really limited print run. I've not been able to find out anything about it. Do you have any additional info at all? Who made it, rule-book anything? I am very intrigued in this! Even to the point of recreating it. It looks like, based on marking on track is along the lines of the old Gran
Prix:A
Sports Car Racing Game by Wright - Mudge in 1956.
I am long time board game collector. And I've got quite a few racing games that I just love:
Waddington's Formula - 1
, which is probably my favorite of this type of mechanism. I recently came in contact with another big slotcar racer, Barry Bloor, who was also part of some 70's formula racing and a lover of Waddington's F1. He and his mates had made a bunch of additional tracks with pencil and markers on posterboard. And I asked him if he could share the photos with me and if I had his permission to recreate all of the circuits and he said yes! So if you are ever over at BGG, you'll find 2 of them already redone, Zandvoort and San Marino.
Speed Circuit
- I own both the 3m Bookcase edition and the Kleé editions. And have an absolute ton of addition tracks for this game. Yet, it's probably the one I've played the least, do to not alot of friends whom want this sort of great racing simulation, which is a shame, really. Because it's absolutely terrific.
LeMans
- Avalon Hill. Which is a very cool game. It comes with Monaco and Circuit d'Sarthe. The game mechanics are similar to Waddingtons F1, Speed Circuit and (especially)Grand Prix mentioned above. So much so that the 2 tracks that came with GrandPrix work just fine in LeMans (Watkins Glenn and Sebring).
Bolide
- a very interesting Vector Based movement racing system clearly based on the old, old, old "Racetrack" math game from our school days. It's got a few nice additions that made it more accessible but it's a movement simulation, thus plays slower and kind of the opposite you'd expect in a racing game, thus the few people I played with were board. Shame, because I like this game a lot.
Rallyman -
is a simple, approachable, yet infinitly rewardable rally game who's subtlties of gear choice vs time make each game a tactical challenge. A recent Kickstarter saw the success of
Rallyman GT
, which I am looking forward to playing.
Formula Dé/D,Mini
- just a terrifically fun and entertaining racing game. The multigear dice, the beautifully illustrated tracks and accessible game play make this one the obvious choice to pull out for game night. It is also my absolute favorite racing game. This is a game I have a long history with have made paper cars, scenery and ton's of extras for as well as curating a library of 3rd party tracks for this game that now numbers into the high 400's. I also make my own 3d design, resin printed cars.
Old paper cars made in 2006. I still have these, they play great. Just a little on the light side and easy to bump.
My current project of vintage 60's-70's era F1 and Can-Am(favorite racing series of all time) Resin cars I've designed: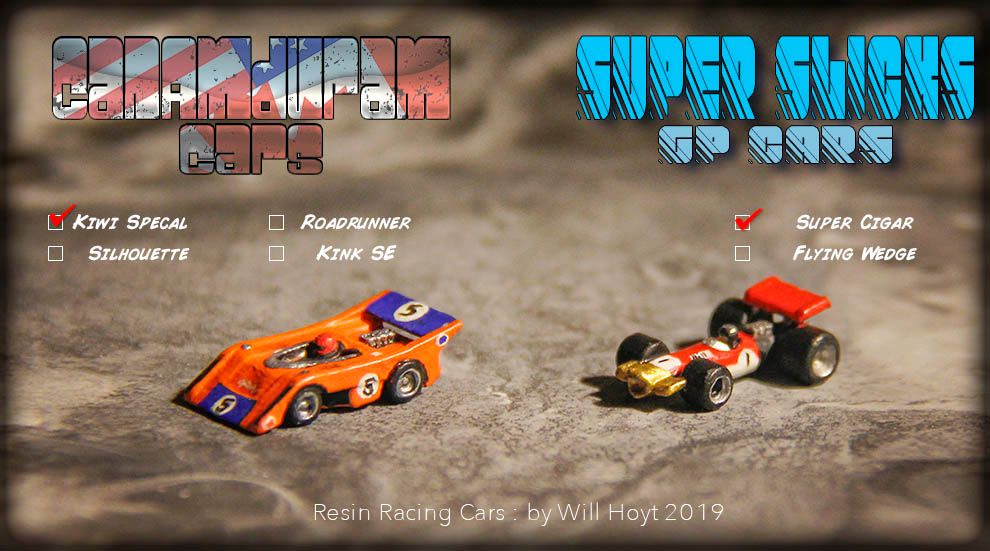 Anyway, my other racing games in the collection are:
Mush Mush - Snowtails 2
. I love this game of Iditarod Racing. It also comes with scenery pieces that remind me of Kevan's post above.
RASC (Real Action Stockcar Racing
) - a pretty cool American Style stock car racing that unfortunately didn't get the love it deserved. It plays very well. An unofficial expansion was made for it that incorporated a road racing element to it.
Rush n Crush
- which started life as a free print and play futuristic racing combat game was picked up by a publisher and brought to mainstream in a beautifully produced title (same name). The circuit spaces look similar to Fdé w/out the arrows. The moment system is pretty novel w/overheating being accounted for and the combat simple and approachable. Another one that I wished had gotten more popular.
USAC Auto Racing
- the name is a little misleading but this is the Indianapolis 500 stat driven racing game. It came with all these little plastic injected car models and a collection of real drivers and stats presents similarly to collectible baseball cards (only square formatted). They even produced multiple years worth of drivers cards sold separately. The system is very basic, the game a little dry, but where it shines is how they almost always play out with real world results. Its a uniquely odd but enjoyable game if you are a fan of the Indy/Cart racing. It's too bad they didn't expand the system a bit more.
Daytona 500/Detroit Cleveland Grand Prix
- I includes these 2 together, even those one is on an oval and the other is circuit racing, because they are part of the same card system developed by Wolfgang Kramer. It's a fun, accessible game. You basically bid money on cars to back, use the cards to move them (often all cars at varying distances per each card played) and sometimes bet along the way on who will finish 1st, etc. Its a fun system and has had many permutations over the years. Restoration Games has recently released an updated version of the system under the new title : Downforce.
Ausgembrest & QJet -
are rethemed versions of Avé Cesar (Chariot Racing).
Ausgembrest
is gokart themed with track bits that allow you to customize the layout for each race. It has some rules tweaks compared to Avé Cesar and is a little more family friendly. While Q•Jet is more of a new coat of paint on the system where you are racing Jet Boats in a future Japan. I personally like this one the best.
Thunderroad, Wreckage, Outrider, Road Kill Rally, Battle Cars, Dark Future
- I am putting all these here for simplicity. As these are all combat/racing games. Thunderroad
was mass produced by Milton Bradly and is clearly a simplified version of Mad
MAx:The
Road Warrior. It's alot of fun, plays quick and you can get the entire family playing. Dark Future is more squarely themed at Mad Max (1st movie) where you are part of either the "law enformcement" or the "bad lands gangs". Its an interesting system but it's slow playing and feels a bit over complicated for what it is...but still worth a look.
I've got quite a few boat racing games as well but those aren't the topic of this discussion so I'll leave them for another time.
There are a few more I am forgetting or not mentioning (like Turbo & Pole Position arcade to board game translations) but that's an overview of some of mine.
Cheers,
Will