Discussion Starter
·
#1
·
Hi everyone, a while ago I posted a little picture story that I put together one afternoon when I was bored, called 'Hot Pursuit'
I had said on that thread that I would do another one, and I have
The first one is
HERE
in case you missed it.
And here is part 2
The action takes place on the outskirts of the Seacrest County forest
Where this officer has been dispatched to in search of that elusive BMW following a tip off about an illegal race going on
No sign of either yet...
But up ahead...
These two hot heads are racing to settle a disagreement over who's Mustang is the better one; the '67 fastback
Or the 1970 Boss 302
The officer hears the roar of their engines grow louder, and then they appear. He radios in to dispatch that he is in pursuit. It's not the BMW, but they are streetracers nonetheless
The racers slide out onto the main road
And curse as they catch sight of the cop in their rear view mirrors. Now its on
The Boss driver isn't losing this race, and he sure as hell isn't going to get caught by the fuzz
He moves out of the 67's slipstream, and goes for the overtake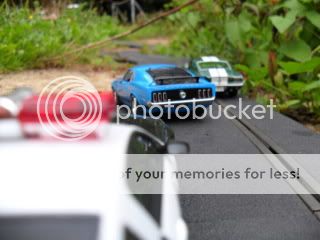 The chase continues, twisting through the trees
And the officer calls for backup
These guys are not stopping
He bears down on the '67
They wont get away from him...
The road reaches the edge of the swamp
As the racers push their cars perilously close to the limit
The road up ahead splits into two routes...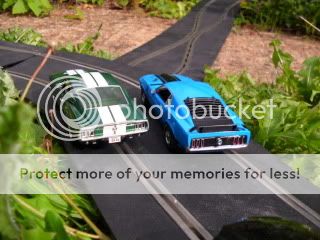 One heads back into the forest
And the other continues south to Boulder Road
The Boss driver takes the road back to the forest
And the '67 driver takes the other route. This race will have to be finished another time
The officer can't follow them both...
He goes for the '67
This officer knows something that racer doesn't...
The road dead ends up ahead!!
The racer sees, but he's going too fast to react in time. He swerves and brakes hard
But it's not enough
"Dispatch, this is Officer Bell, I have one of the suspects in custody. The other has resisted arrest"
"Suspect is driving a blue 1970 Mustang, last seen headed west into Seacrest forest"...
Hope the sequel was worth the wait
Cheers
Aston man