Here is a sketch I drew for a four lane routed track. This will be my first try at routing, I've taking down the HO stuff and shortened the table height by 8 inches.
Here is the track layout layed out using printer paper.
7 sheets of 4x8 mdf later and the track is all cut out and ready to be joined together.
I went looking for the stop bead mentioned on another thread but had no luck, I did find something that worked just as good called 7049 BW Stop located at Home Depot in the vinyl trim area.
I also came up with an idea that requires no nailing into the mdf and it can be adjusted if the lines don't look quite right. Note: sections need to be cut out first.
All you need is the vinyl trim that I mentioned, some 2x2's cut to length and a bunch of quick clamps, (luckily my brother had plenty for me to borrow)here's a pic of the nailess jig in action,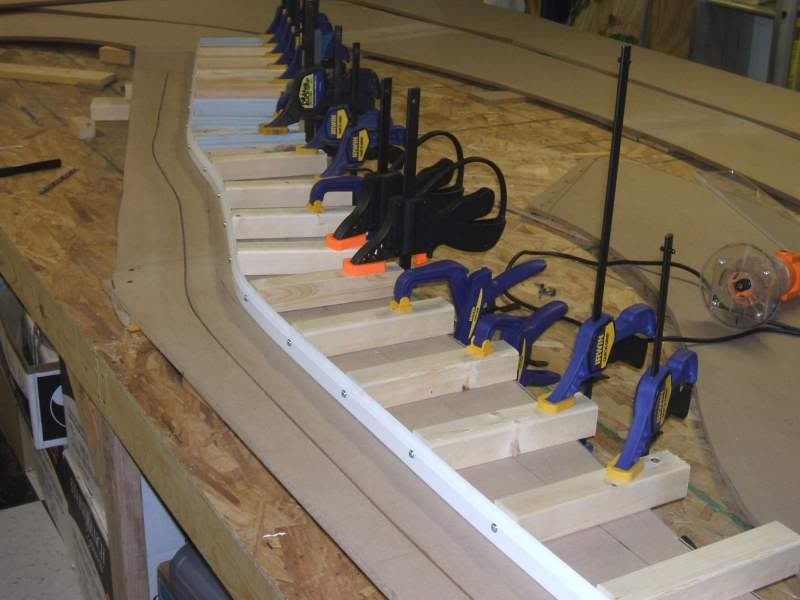 I had to flip it over to get to the inner lanes.
The routing went pretty easy and only a slight mishap when I took a little pressure off the router then it wandered just a bit.
I also rigged up a variable speed control using a light dimmer switch for my cheap router.
My son would start it slow then turn it to full on to avoid any sudden jolts.
I've got the routing done.
I tried getting as many sections of track cut out from as little sheets of mdf as possible. Knowing I would have some scraps leftover, I knew that I could add the extra pieces for the area's for aprons later.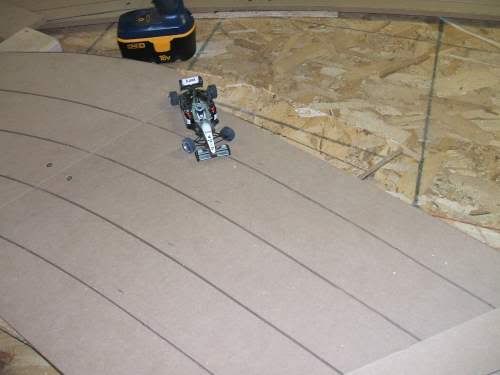 Got it painted, now it's time to lay down the tape.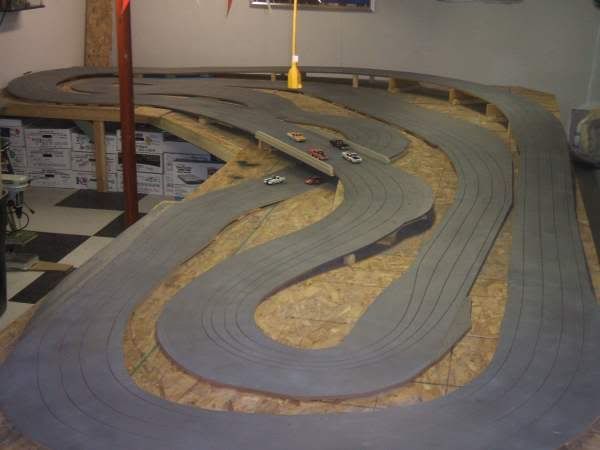 Got three and a half lanes done.
I fired it up jumping off a couple of stock Scaley terminals, the track is nice especially the long sweeping curve.