I posted this at another forum so my apologies if you've seen it already. I just wanted to share the love over here some:
Anybody over on this side of the pond, there's a new sheriff in town carving out some tracks at reaonable prices I think.
http://www.geocities.com/autoramaracing/index.html
"Woaaahhh!
Well, probably not nearly as satisfying as rolling your own but I'll try to enjoy it anyway.
I couldn't pass up the opportunity & I bought Hot Shoe's "Track In A Day"(if anybody followed that thread). He made me an offer I couldn't refuse & shipping wasn't too bad.
It came as two 4'x8's of MDF carefully screwed together to a pallet and shipped as freight.
I got the whole thing up a flight of stairs by myself which deserves a separate thread in itself....trust me.
The 4' x 16' layout takes up about exactly the same real estate that my Carrera rug course was taking up except that was laying underneath some furniture...this ain't
Some observations, you wood pros move on - this is old stuff.
I've only been in this a year but I figured out pretty quickly that I don't enjoy the mags alot so this progression only seemed natural. I do like Carrera however, do not not miss those clips!
I'll trade sore, sometimes bloody fingertips for splinters as of now.
Mo better being not on the floor but that's not specific to wood, even deslots on plastic's easier on your back when not sitting down there.
These are really, really first impressions obviously...it's growing on me each time I run a lap.
It's smooth. No clickety clacking. There's only two seams & the way Julian rigged this to go together with 4 bolts is nice. I think it's an elegant, smooth flowing layout. One end's a little tight but I'll get used to it. My cars suck. It's a whole new game. Most of my cars that I thought were decent non mag on Carrera are not necessarily so on this. My ancient Monogram Ferrari & Cox Cheetah are smooth though - go figya. The Scaley Ferrari P3 is nice. The new Carrera 1/24s are not too bad. I think I need to thin the guide a little on those perhaps for this track. Just to get by until I get some Driver's Stations I'm using a Carrera Power Terminal track with a TrackMate Power Supply & PM Controller with the 4 leads going to two respective lanes of the routed track.
Works fine.
Really top work by Julian & amazing it was done in a day...at least to me.
Thanks Hot Shoe!!!
Phone pics are weak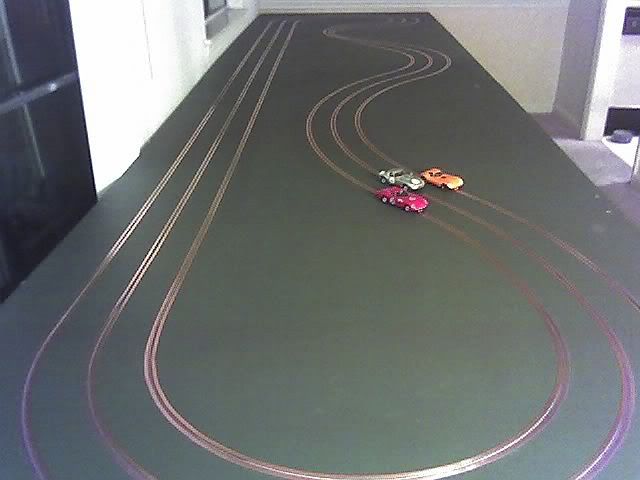 [/image]