Discussion Starter
·
#1
·
There have been a couple of things I wanted to try lately, (slot car wise!), and as I had a day off today I thought the opportunity too good to miss.
First I haven't used a lexan shell since my ECRA days in the sixties and secondly I wanted to try a chassis with the Guide mounted behind the line of the front axle.
Everyone always used to say that it wouldn't work and the car would be far too unstable to use.
Well...................
The shell I got from Bruce Patterson (Patto's Place), some time ago on a whim really as I like 50's/60's British Sports cars. I remember in the old days, (some say good old days), spending hours trying to cut out wheel arches with a pair of scissors and trying to get them round, never with a great deal of luck. Well nowadays it is really easy with a dremmel with a sanding disc.
I painted the body following closely a picture I found of a Historic-racing meeting. I had forgotten how nice it really is to handpaint a shell, (from the inside), I really must get some more.
The chassis is fairly straightforward. PCB Main chassis with a Slo.it Inline Pod and running gear. Motor is my favourite V12 but the 24K version. More than enough power for this little beast. Wheels are the "scratchbuilders saviours", i.e. Ninco classics and guide is TSRF.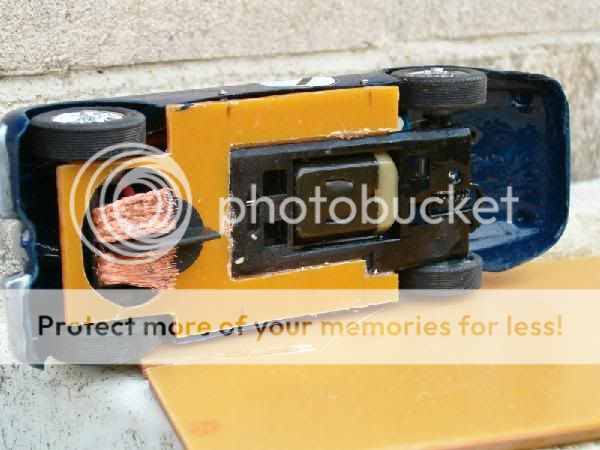 The picture shows the chassis arrangement, which is easily cut out using a Dremmel cutter and sanding disk. I have left this one unpainted as it shows up a little better in photographs, but eventually it will be painted black.
So how does it run? I was a little concerned about this so it was with some trepidation that I oiled up the car and set out a test track. The car was superb and it wasn't necessary to add any weight to it at all, which surprised me. Handling was very predictable with great tail slides.
All in all very worthwhile, and pretty cheap to build little car, which can easily hold it's own with my other classic slot cars and I will defiantly not hesitate to build more.
Regards
Alan