Discussion Starter
·
#1
·
Spent three days cleaning out my shed. Finally making a track that will make for great racing as well as another track that I can do some scenery with. The bigger track is finished but still needs to be hoisted to the ceiling cavity. In the meantime I need a track to distract the boys here so a nice little three lane deal should do fine.
I'll post update photos as progress is made and answer any questions.
The first comment I'll make is the track hills were made using small gauge bird-wire with chopped strand fibre-glass mat laid over the top then a flexible rubber based waterproofing compound placed over the top of the mat. Quick simple, non-edible and permanently flexible.
Also note, I placed some clear Perspex strips around the track edge, so my 5 yr old son can see the cars coming down the hill. His first complaint when the track had a timber border. The clear Perspex can be seen just above the Cooper. Not my idea, saw someone do it here and I can recommend it. Also think it adds some depth to a layout.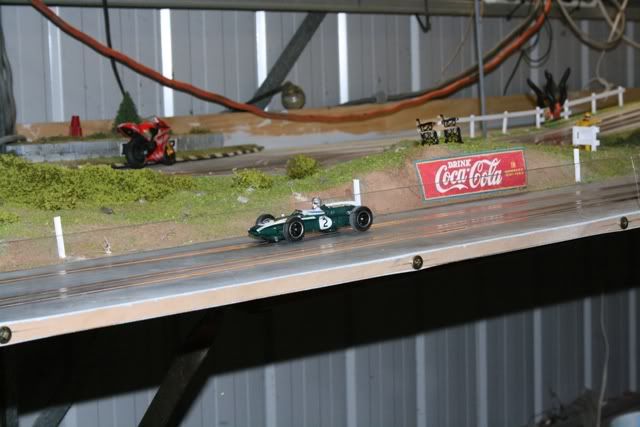 The track has only really one level area and everywhere is is uphill and downdale.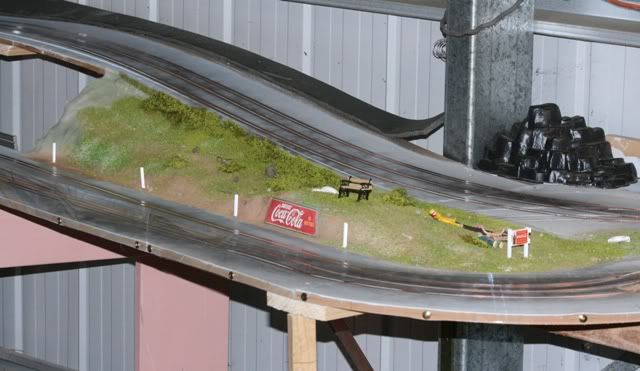 Hopefully the photos work!
New scale timber fence pit wall.