Thanks guys,
Yes, Knoath the whole track is worked out in 1:32 scale. The fence is scratch built. Worked on 2 fence rails each of about 180mm (in 32scale) and posts of 150 x 150mm. I figured on making the fence the sort of size as that of the old banked Brooklands racetrack after I found a picture of the aftermath of an off track excursion. Most of the timber used in the little pit wall fence was ripped down through a 10 inch bench saw which means getting your fingers close to the blade. About 4 to 5mm close so you have to keep your wits about you. Luckily these days the saws spin as if running on air so not as bad as the olden days..which I'm sorry to say I can remember. Here is a little more of the fence. Still some work to do in this area.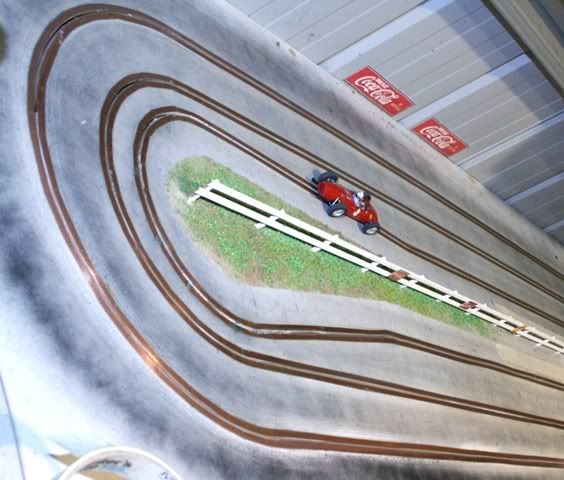 …. And Graham is right about the split mdf. Hardly the work of a qualified Carpenter and Joiner. I do intend to fix that Graham. But in my defence I was doing the Perspex whilst the three boys were whizzing some fairly valuable cars by my finger tips, so the faster I got it happening…
Really happy with how this next section turned out. A fast run downhill and a quick left right. You can take it flat out. The photo doesn't give it enough credit it really drops down fast.