I arrived at Goodwood today and made straight for Scale Models. I was hoping to get a Cartrix Merc, but they had all gone. However, holding centre stage were several brown cardboard boxes with one each of the new Vanwall and Maserati on top.
Back home and it was straight out to catch the last of the light for pics and a few laps on the track, after all this might be the very first review of these new cars. It seems that the main shipment is delayed, but that Hornby had flown in a small number to supply to Scale Models who, after all, are the only slot car retailer with the commercial clout and sense to be at the country's biggest motor sport event.
Hiding inside the freight packaging are the special Goodwood boxes. Technically the same as the normal Sport box, but with unique decoration and very nice it looks too.
Inside the car is held in with the usual brass screw, but also twisted black freezer bag-type ties. The special edition bit (cue controversy) is the credit card -sized piece of cardboard with model details and the limited edition number.
The first thing to strike the viewer is the very, very smooth, glossy paintwork. These things look as if the paint is still wet so high is the shine. The shape is good too, or at least it appears so to me although I can't claim close personal familiarity with either of these cars. The chrome cross-spoke wheels are delightful if a little too shiny to be real, but the driver and interior detail is spot on.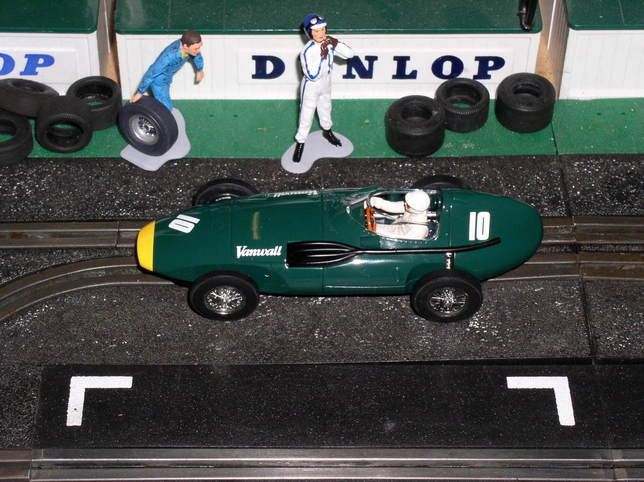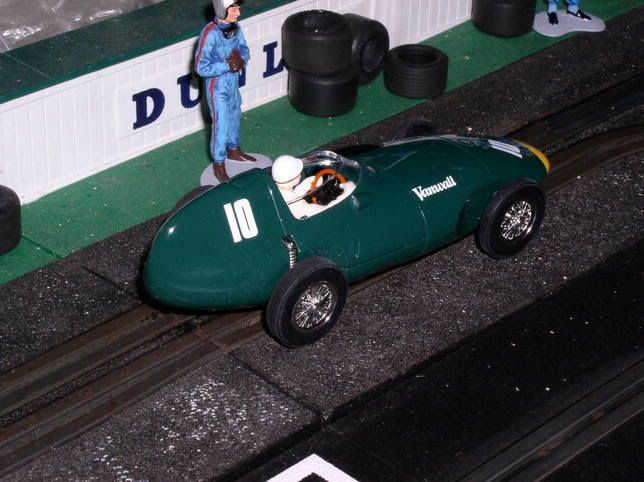 Literally out the box and on to the track they both run fast and true. The magnet, a Fly type button, is strong but tail slides are possible on the cross-over curves.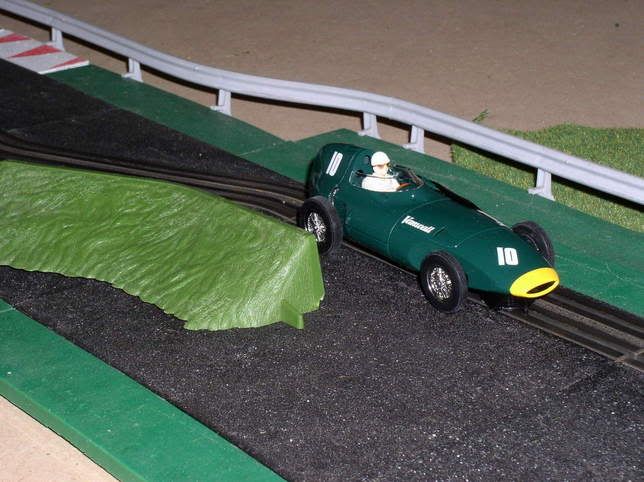 I have not taken out the magnets yet, but these little moments suggest the cars will be nice and smooth without them. Not that it matters, but I did 7.1sec within the first ten laps with the Vanwall and 6.8sec with the Maserati.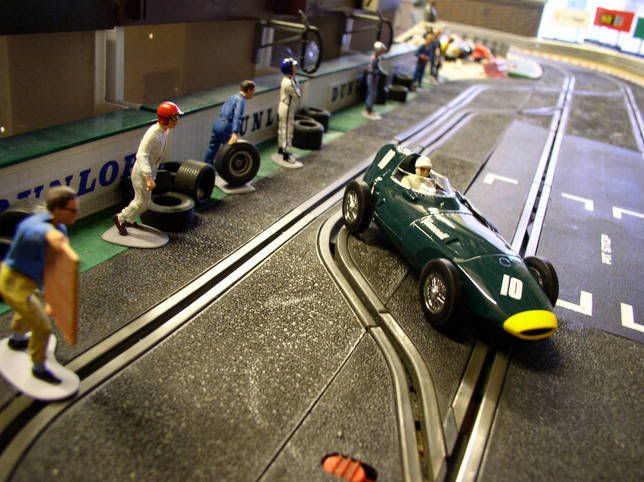 So, the first impressions are very good. They look great, drive very smoothly and have a great "feel" to them. That they are models of two very evocative classic racers driven by legends in a legendary race makes them practically irresistible. Well done to Hornby for getting some to Scale Models to honour their launched at Goodwood commitment.