Discussion Starter
·
#1
·
Hi Guys,
Heres a dummies guide for the Ninco XLC. Enjoy.
Stage one, mark out the LED holes.
Make the hole 12mm offset as shown. Use 6mm for slow parts of the track, 7mm for average speeds, 8mm for high speed.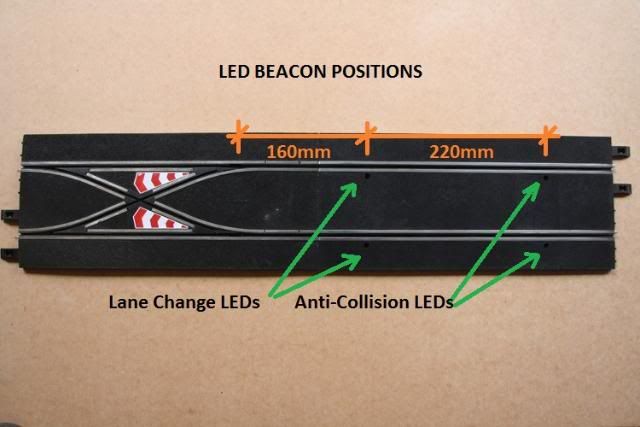 Next hot glue the LB in place using 4 small dobs of glue onto the LB then placing on track. Make sure you leave room for the LEDs.
Note all the Lane 1 wires going towards Lane 1 and the same for Lane 2.
Use hotglue to fix neatly in place. Shorten wires to ensure a neat installation.
Next use sidecutters to trim the LED PCB to allow the LED to be centred correctly.
Tip: Not shown but use the offcut to pack the LED 1.6 mm (thickness of PCB) deeper in the hole. Glue packer to LED PCB then glue PCB to track undrerside.
Next hot glue into place the 2 Lane Change and the 2 Anti Collision LED PCBs
Next solder in the solenoid driver wires. Use fine sandpaper to remove varnish of solenoid winding wires so solder can adhere. Use hotglue to fix wires in place so they cannot short.
Wires for solenoids are not polarity sensitive so solder in any order.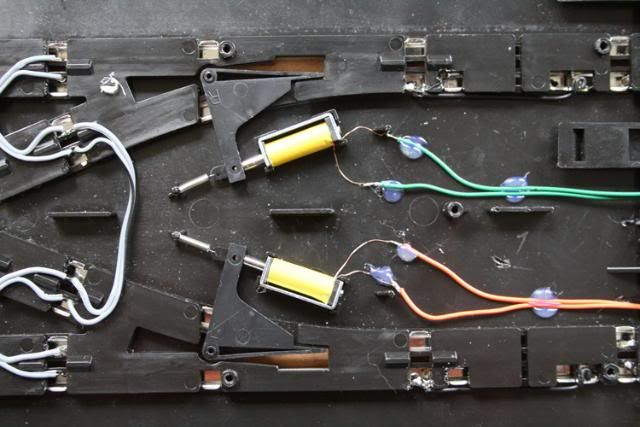 '
Next glue in the reset switch so it can be quickly accessed. Extend if required. Here a dremel was used to cut a slot to pass the wires.
Next "liven" the flipper.
Split the liven flipper wire so it it can be wired to the flipper itself and the section after the flipper, often where cars get stranded.
Note: Yellow wire is silicon wire. Solder to copper tape.
Now use a short loop of wire (red in the pictures) to 'liven' the deasdstrip. No more deadstrips, yay!
Wire poking through ready to copper tape.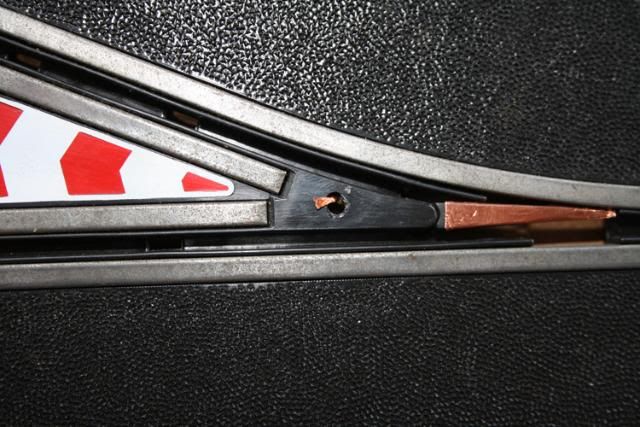 Now add copper tape. Reinstall the solenoid cover.
Now program the ID, ready to use.
Rick