Discussion Starter
·
#1
·
Hi Everyone, just over 6 months ago i had about 25m of SSD plastic track and just settled in to my new home which came with a 9meterx6meter shed which was to become "Manland" and once setting about constructing my new permanent track and being used to running on 8 lane commercial tracks when i was a young fella the thought popped into my head that i would prefer a routed track over a plastic one so then i was left with some choices of how i would go about the build process. In being in a hurry to get something up and running i probably took the quicker option of inserting the plastic track into the MDF but i didnt use the whole piece of track when putting it in i only used from the sensor to the flipper the rest of track was cut off and discarded, thus allowing me to make a bigger crossover so the lane changing isnt as sharp. The track lane spacing is also 100mm except where the Powerbase and 4 XLC's are you will notice from the pics down some of the straights the lane spacing reduces to the digi parts then steps back out of which is unnoticable when driving whilst giving better room between cars going through the corners, i have all the aftermarket upgrades, PBProSH, PitPro and SSD Console and a Manson SPS9250 25 amp 0-15.5v variable Power supply i havent measured the track but estimate somewhere between 28-30m long and the longest straight at 4.1m.
Here is a couple of pics of the construction of the base which is 5.1mx2.4m
Here is some pics of the routing process, you will notice some of the corners on the flat part of the table have numerous radius changes, none of the raised corners have radius changes though.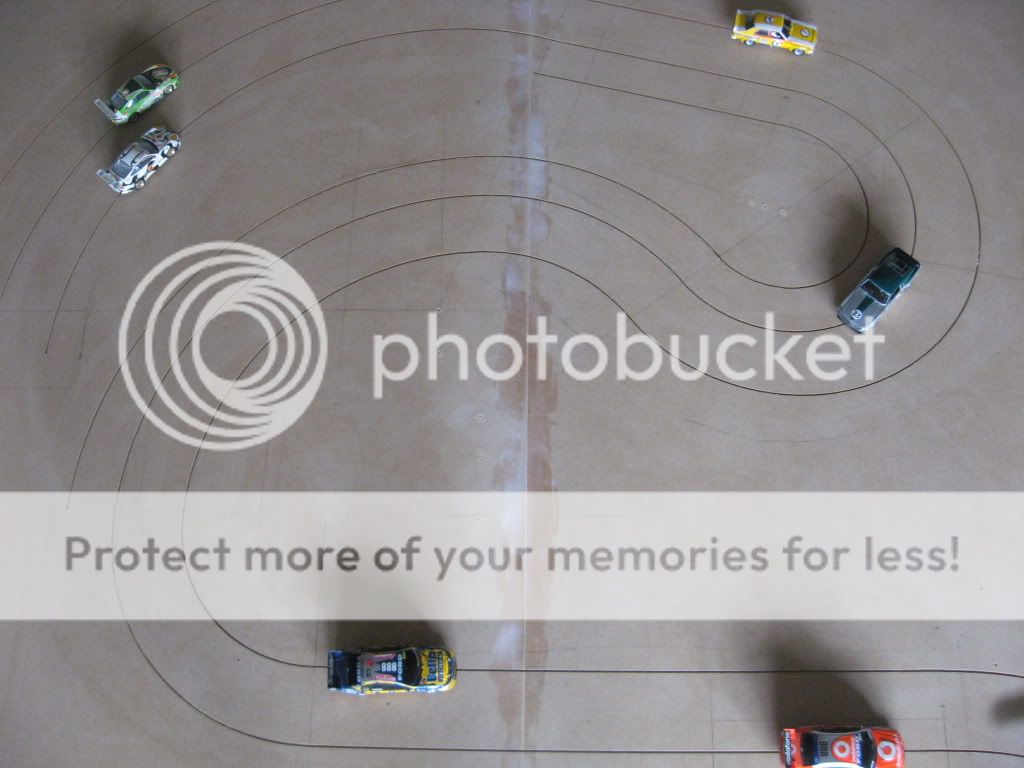 Heres a few showing one XLC inserted, builders bog was used fill any gaps and achieve a fine layer over the top of plastic piece, sorry i dont have any pics of MDF cut out before putting in plastic piece
A shot of the pit entry Flipper
After having some paint applied
First night video testing a Porsche 911 GT3 (wasnt my best driving as i was filming at the same time)
First Night Video
6 person driver station is now constucted so people can just walk up and plug there controllers in without having to plug in and out of the powerbase all the time its only undercoated atm but will get painted up as scenery progresses.
This is what the track is looking like atm and i will post more pics as i start to progress with the scenery
Cheers John