Discussion Starter
·
#1
·
This is another project of mine that has been sitting for ages on my work bench.
My initial intention was to make a Team Schubert VLN. To do so I had to add vents on top of the front wheel archers and modify the rear wing.
These worked out pretty well. Where it went all wrong was the paint job.
I decided to scrape it and start all over. But other commitments and events put this in the backlog.
Recently I found some nice decals on patto for making the Marc VDS Racing Team livery.
Got the pain job done pretty quickly and worked on the weekend to apply the decals.
Here are the results: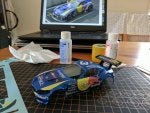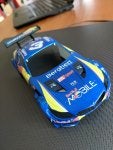 I really tried hard to make sure that the decals would set flat but some of them have some nasty crests.
Oh well, it means that I have to drive it really fast!