My second track
(you can't call them permanent, they just never seem to last long enough) was built in haste, and in practice showed the evidence of poor design and bad implementation. It looked OK, but some parts of the track were difficult for some cars, and successive attempts at rebuilding after copper taping only made the poor connectivity worse. And as for the (lack of) grip....
So I saw myself faced with three choices:
1) an extensive programme of work to rebuild the Scaley Sport track, a potentially unrewarding exercise with an indefinite timescale and an uncertain level of success
2) routing a new track in mdf, where the uncertainties lay in the timescale and the technical requirements for a severly technically challenged person
3) relaying the track using Ninco, which promised good connectivity and grip at the end of a short build.
Well the title gives it away, but yes, I took the easy way out!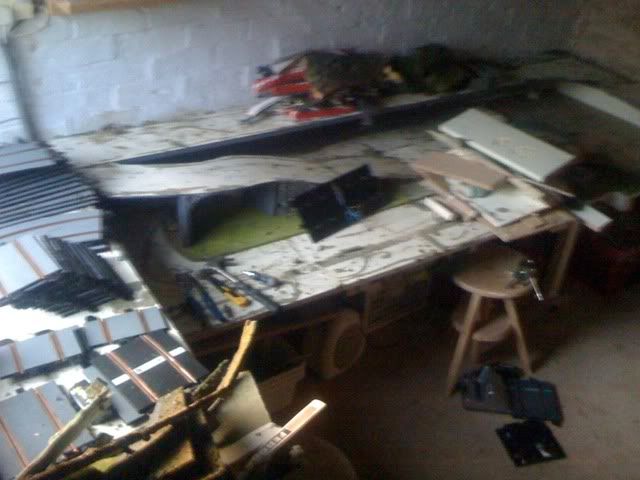 It always looks so depressingly messy when you rip the track up.
I wanted to follow the existing track design as it was a good use of the space, and I could use the existing sub-structure. The Scaley layout translated pretty well into a Ninco version.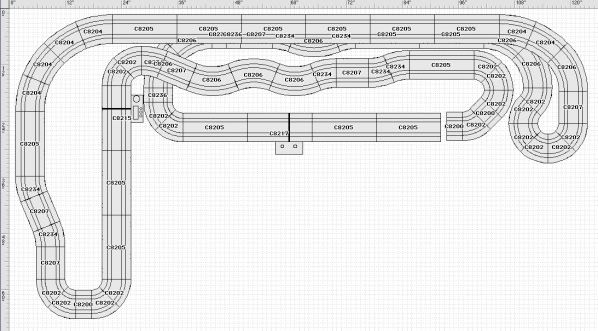 The Scaley track design was just too tight in the corkscrew on the right.
The Ninco track demands more space, but that (and learning from my mistakes) led to a simpler, more open and flowing design that is more usable, particularly as probably the major function of the track is in tuning cars for non-mag club racing.
Track building itself was not much of a story, apart from finding out that the Ninco track is much more rigid, and so it's not so amenable to closing gaps - but then again, that flexibility may be one of Scaley's fundamental problems.
Anyhow, the track went down well. I set it within 9mm foam rubber underlay for wood flooring - it's the perfect height for the Ninco system, and it cuts easily with a sharp knife or a big pair of scissors. So it butts up against the track to make an excellent border.
And wonder of wonders, the first few tentative laps with a club car showed a gppd level of grip, even before it has had a chance to rubber in with racing. And the electrical connectivity - did anyone mention you don't get problems with Ninco? What people say on SF about this track system is true - it's just great!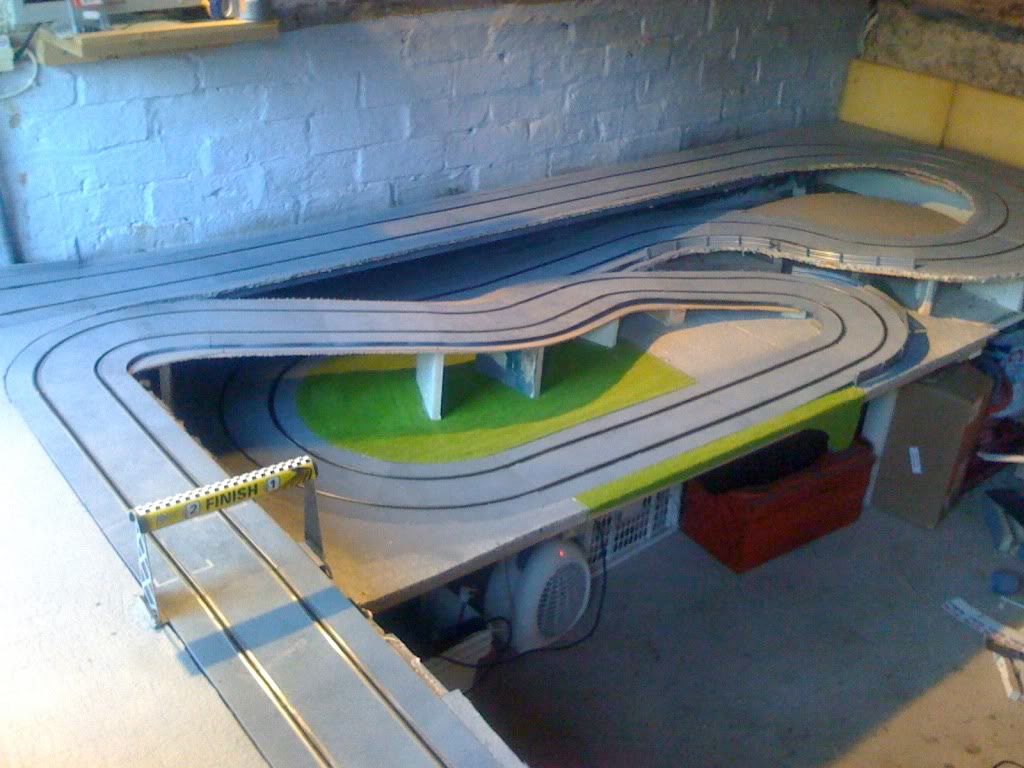 Well, with a quick track painting job, the boring work is now almost done - just the crash barriers to put up, and then it's good to go. The nice part, the scenery, I can now afford to take my time over - the space left is enough to give the opportunity for creativity.
That's all for now folks!
David