A few months ago I was told about the 808 keychain camera, that's the search term you'll need when you go searching for it about 2 minutes from now
It's the size of a car key fob, weighs about 15 grammes (is that 1/2 oz?) and they cost between £7 and £30. That's cheap enough for people to stick them to R/C planes and fly them around or to bikes when cycling to impending doom down a mountain side. They're also ideal for strapping to your slot car and hammering around the track. USB connectivity and a tiny memory card handle the business of downloading stuff to your computer.
There are various different kinds with different frame sizes, unfortunately they're all 30 frames per second so it can be a bit bouncy.
Want to see what I recorded yesterday, and skilfully* edited this morning? Click the picture for the youtube link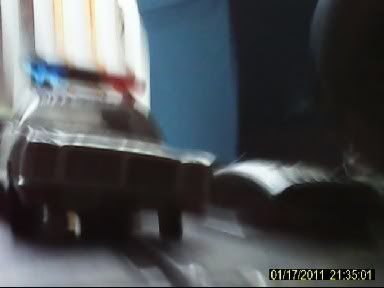 Anyone else tried this?
*Yeah, right