I thought I'd start a thread detailing (in as much as I can) the build of my first, but definitely not my last, thingie.
I considered building a thingie way back in October 2008 when the idea for a 2009 series was first being put forward. Previously, I had hoped to enter a D1.5 in the 2008 proxy but didn't get my self organised in time, Instead, I avidly followed the series and marvelled at the cars and the talent. I've got to say at this point that you all make it look so easy.
I already had a design in mind, but unfortunately when the Sunchaser rules were finalised, the brass plate chassis I was imagining had to be abandoned. However, whilst the rules outlawed plate chassis, they permitted the use of a modern motor (the Parma 501). This decision made it much easier for me to enter the series, and better still, the hullabaloo surrounding this 'heresy' gave me an idea. I have been a fan (no pun intended) of the BrabhamBT46b since I was a youngster and the word Parma kept reminding me of this car's sponsors. After a few initial scribbles I came up a design that was loosely based upon the Brabham's lines, and as I stretched and thingiefied the body, it developed a distinct bill. Suddenly I had a name for my entry (The Duck Billed Parmalatypus) and I was determined to get it built.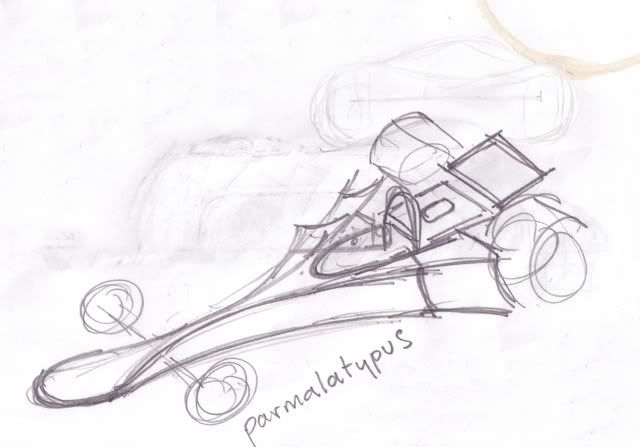 One of the initial sketches for my Sunchaser entry.
The finished car ready to be mailed to Lowrider. (Note: I'm very unhappy with how the paint job turned out. I hope Jarius is averting his eyes, or at least watching from behind the sofa! lol.)
Over the next few days/weeks I hope to fill in the missing 4 months between these two photographs and detail the highs and lows of my first ever chassis build. Where I can I will repeat the advice I got on the way from people on this forum, and list the retailers from whom I sourced the materials, just in case any other rookies might be reading.
Jaak, I might even show how I built my own Vac-former.
Comments, advice and criticism are welcome throughout.
Regards,
Al
P.S. I would have posted a pic of the Brabham for the sake of completeness, but I am wary of the issue of copyright. If anybody has their own photo of the Fan car I'd be happy if you posted it.