Hi everyone,
I was inspired by Chris's idea to try oXigen (documented here under "
my Oxigen Journey
") and curious.
So I got myself a test kit.
I am mainly interested in:
How does the interaction of oXigen (O2) work on a Carrera track?
How is the driving behavior with O2?
Interaction of Cockpit XP and O2
Background:
I we use silicone tires on our tracks to get rid of the weekly polishing of PUs. Unfortunately the silicon tires leave dirt on the ladders of the track. With big heavy Carrera D124 this is not a problem. But with light 132 cars without magnets, the digital signal is unfortunately disturbed. So that the cars react partly delayed. Analog driving is no problem at all. Also cleaning the ladder helps only conditionally, because after training and a 100 round race the problem comes back. The more the drivers drift, the sooner the problem comes back. Since O2 transmits the signal via radio, this could be a solution to our problem. And I'm also curious and enjoy trying out new technology.
Briefly about me/us:
I have two dual tracks (analog and Carrera digital) and drive weekly in turn on different tracks.
Here are some pictures of my track at home ("Brockhausring" and our club track ("slotrace56" in Erlangen (a city next to Nuremberg).
- Brockhausring:
- slotrace56: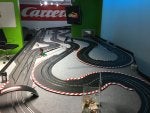 Every race evening we drive 3 race series mostly with Carrera D124 (Classic, DTM, GT, BMW M1) but also Frankenslot Karts and BRM Gr. 2.
Also I love slot.it Gr. C, Sideways Group 5 and NSR Formula 86/89. But with the small ones there are unfortunately the said contact problems.
I also write AddOns for Cockpit XP and design racing scripts. In this respect I know Cockpit very well, love the possibility to design it according to my own wishes and to be able to extend the functions by AddOns. I will try to realize the chaos function via an AddOn that the oXigen cars stop at chaos.
Going forward
I suppose that I will have many questions and encounter some problems.
Since I read here very great competence, I hope you will accompany me and help me with my questions.
For a better overview I will place the individual problems in separate posts, so that it remains clear.
But I will summarize the results (successes and - hopefully not - failures) here.
Looking forward to the discussions with you
Fluff