Discussion Starter
·
#1
·
Hopefully the following is of interest to some of you. It's not the last word in scenic modeling, but it should provide some fun for the kids. With the credit crunch and the general feeling of trying not to spend too much this xmas, I decided to treat my boys (aged 6 and 11 x 2) to a permanent Scalextric layout using my old classic track in the loft. Using an 18mm thick MDF board of 8'x4' and a few extra pieces of classic track off ebay, this track is being constructed in my parents garage out of prying eyes. All I've got to do is find the time to finish it and then transport it xmas eve under cover of darkness to it's new home in my garage!
I didn't want it to be too detailed, just enough to add some atmosphere and be tough enough to stand up to 'enthusiastic' driving. As the kids get older we can always add more to the layout.
The elevated sections are made using 6mm MDF with bendy MDF used around the edges to give a sort of 60's concrete effect. These sections are screwed from underneath the board into the pillars. It's important for me to keep the cars on the board and not on the floor - hence the protective walls!
The first pic is a trial run. I have since decided against the Scalextric lap timer and gone for the Ninco N-scorer which can be added in front of the pit lane later on. At this point I still needed to trim the board and extend it a few cms at the far end.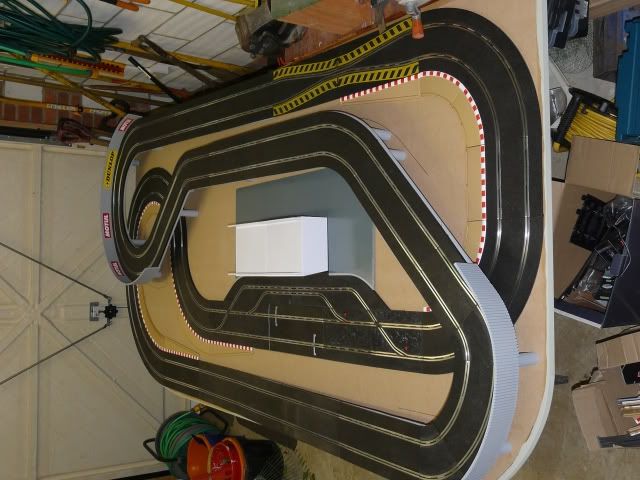 The second pic has the board extended and trimmed. I have soldered wires on onto the power straight and have attached these to the power pack which is now screwed underneath the board on the left. I made a pit area from 6mm MDF painted gloss grey which fits neatly around the two Carrera pit garages. It adds a little more to the layout and provides somewhere to put the cars.
I have now added the grass mat and crash barriers and even the first of the trees. Just waiting on a pic to be sent from my Dad and I'll post it later.
Hope you like it.