Hi all,
After lots of years with Ninco (analog and digital), which I converted to Scorpius (gorgeous) and a small analog woodtrack (
(ROC 2007)
, I am planning to set up a digital Scorpius wood track.
My requirements are:
We drive mostly 1:32 or 1:28 (Mini-Z). 1:24 shall be possible, but does not have priority. If so, it would just be for setting up cars, as I drive 1:24 in our local club.
I want a challenging track with some tight radii.
The room is 5.5m x 3.5, has two doors and must be fully accessible.
The pit is designed for two pit boxes and one pace car (at the end of the pit, not designed very well)
We want to drive with 2-4 (may be 6) drivers. Additionally, there shall be ghost and pace cars.
I cannot use substantially more space for the track...
The track length according to the plan is 18.25m
I did the plan with UltimateRacer, i.e. with fixed radii. The final layout will have smoother curves which are only possible with a routed wood track.
Track data are as follows:
Lane distance: 10 cm
Shoulders (measured from slot): Inner: 5..10 cm, outer: 10..15cm
Radii: R1: 20cm, R1b: 30cm, R2: 40cm, R2b: 50cm,... (R1=20cm means, the inner slot has 15cm radius, the outer one has 25 cm)
Wherever there are shoulder missing, I did not succeed adding them using UR3.0
Please have a look at my first layout: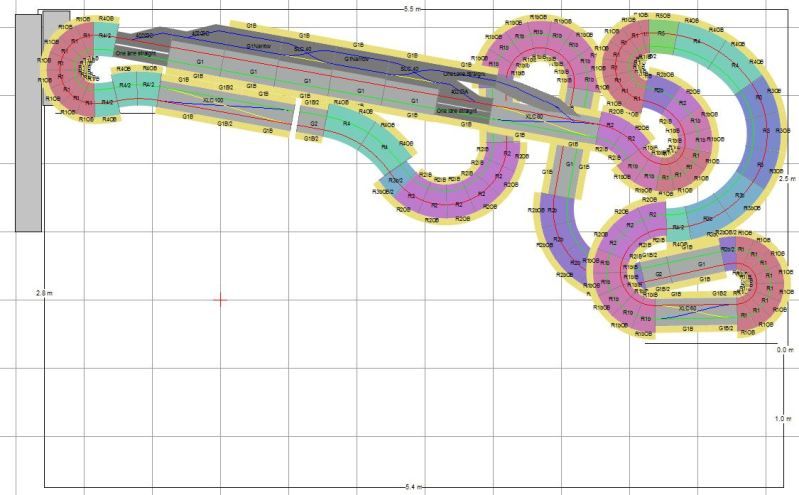 What do you think about that? Any critics, suggestions welcome.
Diegu