Hello all,
Many thanks for all the feedback.
John's Slotracing:
You raise a key point here, and something I'd not given a lot of thought to previously. I suppose I've always wanted three lanes because my head has been turned by some of the amazing tracks I've seen on this forum in the past. These tracks have been my inspiration to move from plastic track rug racing to a routed track with scenery. But, If I'm going to be honest, most of the time the track will be used by 1-2 people.
Diegu:
Again, you've raised a point I'd overlooked in my original diagram - the need for skid-aprons/run-off areas!
I have therefore had another go at drawing out the plan, paying a little more attention to scale (if my rudimentary grasp of mathematics is to be relied upon!
)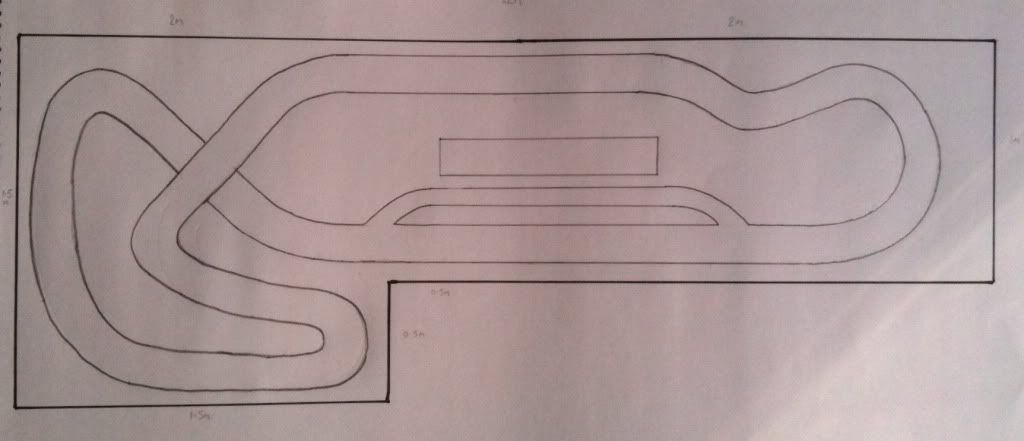 This plan is based on the same dimensions as the original plan, but I've gone down to two lanes (lane width based on the width of standard Scalextric track: 156mm) and have allowed between 50 and 75mm for skid aprons. The larger empty space on the right side of the plan is where I intend to have a larger run-off area with tyre walls etc and low-relief buildings in the background.
Bam:
Your track is the Formula One 1990 one, isn't it? Nice track! I agree with you that two lanes will free up space for more scenery and - given that my track is meant to be a street circuit - scenery will be key to creating this feel and look.
Dangermouse:
Nice track, but I understand your desire to incorporate some scenery - particularly after seeing the tracks on that Slotmods site, some of those tracks are truly works of art!
With two lanes, I can still have a mixture of standard lane spacing and racing line style squeezes.
I must admit I'd never really considered 1/24 scale cars. To be honest, it's hard enough keeping up with all the 1/32 scale cars I want without adding a load more to my 'To Buy' list!
I'm no doubt a long way from doing any scenic work, but it is inevitably something I've started thinking about. One thing I'm thinking about is the use of low-relief buildings against the background. I've been looking online for any 1/32 scale kits, but there's not a lot out there. All I've really found are some 1/35 kits of shops, houses and cafes produced by companies such as Verlinden and Mini Art. These are generally used by WW2 enthusiasts for dioramas, but would be ideal for the European feel I'd like to create in this track.
Has anyone used similar models on any of their tracks in the past? Would 1/35 scale models look significantly out of scale on a 1/32 scale track?
As ever, any feedback welcome!
Cheers
Steve