I built my 3 lane track in a space 1.2m wide at one end 6.4m long and 1.8m wide at the other end.
pic here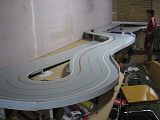 video here
http://s270.photobucket.com/albums/jj113/d...nt=DSCF0044.mp4
I mostly drive on my own now - testing cars I take racing or just for fun. I built 3 lanes for myself my son and any of his friends.
My son is a little older now and isn't into slot cars as much anymore - though when his mates come over they sometimes race on all 3 lanes.
I am thinking of changing my track and building a new one - which will be two lanes. My reasons -
*I worked out I can fit more track in the space. 3 lanes takes up more room than you think
* As I am usually the only driver I don't need 3 lanes - If my son + friends come over one of them can marshall while the others race.
* I have been collecting 1/24 scale cars - I plan on making the lane spacing a bit wider and take out the squeezes.
* I should be able to make both a larger sweeper and some tighter corners with only two lanes. (I need to practice tight cornering)
* I will have more space for scenery
Came across these tracks on the web and they look fantastic
http://slotmods.com/
I love watching those videos - so I want a track with good scenery on it.
cheers
DM