Discussion Starter
·
#1
·
Hi there all.....
Here is a little project I started a few days ago...
Starting off with one of Ricks (Britfix) really great Pop body shells, I decided to "Chop the Top".. which was, and is still is a popular customising look.
Although on a real car there is a lot more work, believe me I have done a few....
Here we go....
This is how the body came from Rick...
The first thing to do, was to mark out how much and where to cut. Then chop the complete roof off...
After filing off the raised sunroof area (sorry Rick) I marked out the areas to be sectioned.
Sections of plasticard can then be used to realine the A,B & C upright roof posts. If you dont do this, the posts will not join up again.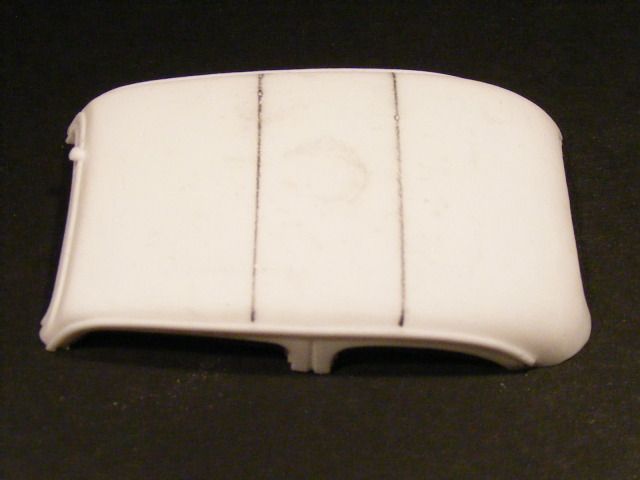 This is how the roof now looks, with the plasticard sections stuck in, but un-shaped...
I also reinforced the inside of the roof at this stage, by cutting a piece of plasticard out to the shape of the inside of the roof, and sticking it in.
Once everthing is dry (overnight) then the shaping of the sections can be very carefully done to the original Pops roof/pillar shape.
Its best to take your time on this stage, as to fill in such small areas is very tricky..
This is the side view, before and after the roof chop..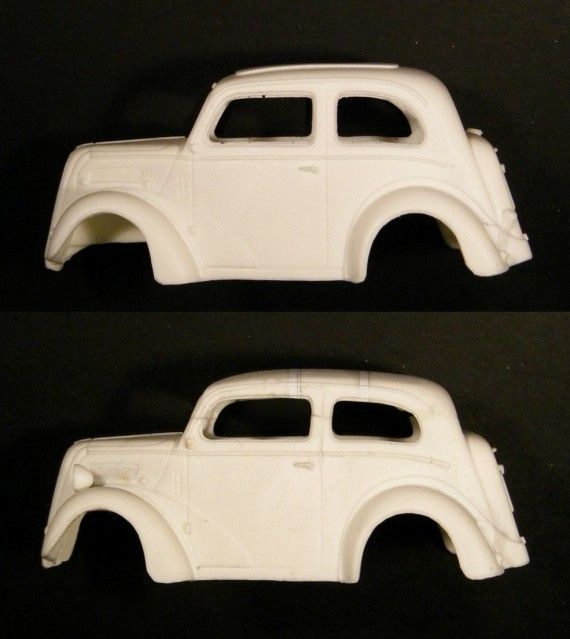 Again a front view of before and after the roof chop..
This view shows up the roof chop better, due to the front windscreen height..
Dont forget you can use this idea, to do a roof chop on most Cars, Vans, Pickups, etc..
But bearing in mind, unless the roof pillers are vertical, the larger the roof pillar angle, and the lower the chop, the larger the roof sections you will have to add..
In some cases you would have to put sections in width ways, as well as length ways. It can become very complicated..
In either case, always work out the chop from the middle B pillar (thats if the car has one)...
Now comes... Finishing the body off, and its final paintwork prep. Then Painting..
Final body finishing & detailing, Plus... Chassis conversion..
I will post some more on the projects progress, as soon as I can..
All the best.. Martin