Interesting comment from 300SLR on the difference between standing start/race start and exit from bend acceleration and the potential current pulled. Tried some quick experiments tonight with the Scalaeauto Yellow Boxer, by running up to full power then coasting down then hitting the power button again for the oscilloscope to capture.
For trial run 1 the motor was run up to 25,000 rpm then allowed to drop down to 6,000 rpm before hitting the power button. As you can see the current is still high @7A falling back to 5A then reducing down. Standing start was 8A peak falling to 6A so not a great difference from the rolling figure.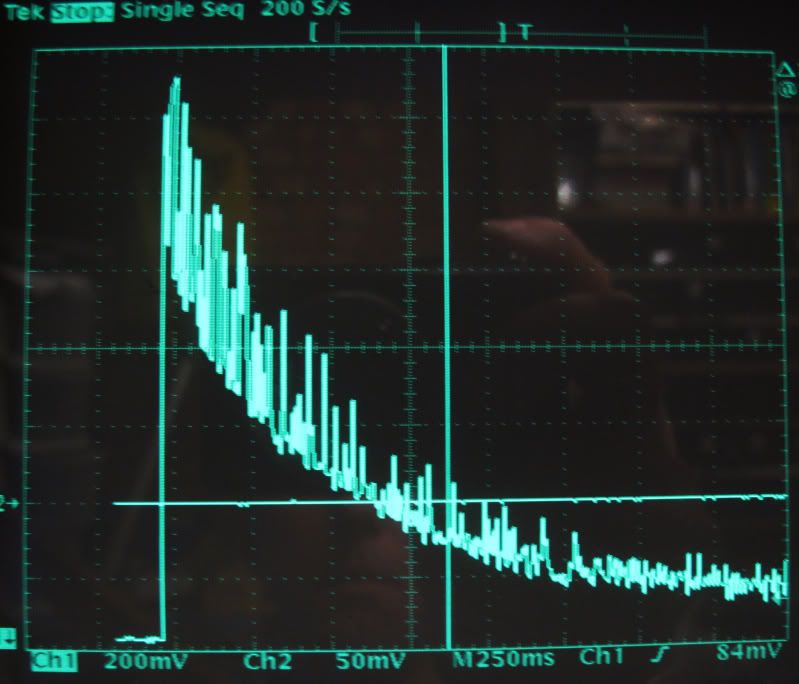 For trial run 2 and using the 17A PSU, again the motor was run up to 25K rpm then allowed to fall, I miss-timed the power ON as the rpm had only dropped to 8000 but still it can be seen there is a high current profile of 7.5A (standing start was 10A) and a sustained current reduction due to the higher power available.
Net result is if the track bend forces a speed reduction down of 67-75% of full speed then the current only falls by @12-25% depending on exit speed so a 10A+ per lane supply is still needed if you want to run this motor to design limits.
Cheers
JCS100