Discussion Starter
·
#1
·
I'm going to tell you the configuration of my system, and then I'm going to tell you the problem I have.
I have a new, black dongle, and set up 3.10 and I have also tried 3.11.
The Boootloader is v.2.13. The chips are C. (SI-O201C1), and configured with Firm. 3.05 ,car mode oxygen.
Me with the bootloader I can not update the chip, I can see the chip version, and then it directs me towards the dfu to be able to upgrade. That's right?
With the DFU program I managed to change from 3.05 to 3.06, without problems. I have not been able to upgrade with DFU to firm 3.10, it always gives me error.
The C chips, I can not register them, I get the following message: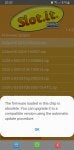 And when I want to update with the Slot.it APP. At the end of the process in mobile phone hangs.
Always have to do it with DFU. When I put the cars on the track, they work, but when I set up a race with the PC LAP COUNTER (V.5.45 C), it does not detect me that the cars are running. Cars are working, but the PCLAP does not detect them. If I put in the race / track , the cars with chip B (2.14), yes that the PCLAP works without any problem.
In case it helps, to be able to give a solution, if I start the Chrono, the program detects that the car is on the track, it turns grey CAR, but it does not detect anything either. It does not detect the finish pass or the turns. I hope I've explained correctly
I hope I have correctly explained the problem. Thanks for the help.