OK, thought I'd start a new thread (so it's easier to ignore if you wish lol), with the project, aka 'The project'
Seriously though, the mission is to recycle as much as is possible from a 60 x 40 inch Sundeala railway baseboard and thus find a permanent (storable) layout using the Street Mayhem Scalextric set.
Ok, so an inspection of the board tells me I may not be able to salvage as much as I'd hoped (really hoping that at least some of the lake can be salvaged and the 'sea' at the right end). However, to also fulfill the main criteria, I've discovered that the resulting layout is by necessity a little dull too. Originally I'd envisaged an Angelsey or Pembrey kind of feel -but space-wise this project just doesn't seem to offer the chance at 'realism' I was hoping for. I have discovered that elevation adds interest -so maybe that seaward side will become a tiny slice of Monaco with a tunnel to the back edge (detachable). The 'loop' will allow for a detachable hillock (housing the majority of the scenic elements) placed opposite the main straight, and I've decided there must be some hard standing (pit area) on the left infield for spare cars. This moves away from the realism feel I"d pictured all along -but does offer the possibility of a distant town/harbour village too. I need to build some sturdy Silverstone style catch fences. I've not got to grips with the the available track lengths yet -the power startline length straight seems too long (aesthetically speaking) for the back section of the board - but not sure whether I can purchase the right combination of short straights (the start straight, chicane etc all seem rather odd lengths -and of course if a lap counter is added it could get even more complicated). I could extend the front of the loop with a couple of short straights if need be.
First project though is to sort out the out of scale MINI (although I can't do anything about that awful front overhang!) -which I think will happen in the next fortnight -purely paint work changes -useless at the more mechanical/technical side of scratch-building and modifying!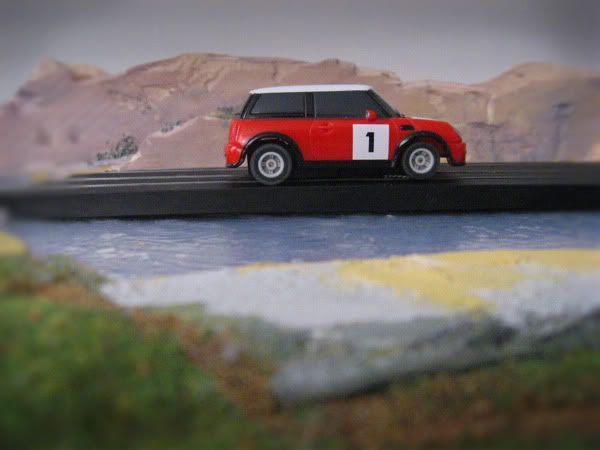 Proposed (very rough) track layout (although it was necessary to move the chicane to to the right had side (between the bends) and extend the track that end front and back.
Thanks for reading, hope this is of interest. And with any luck it won't be a repeat of the railway layout without a home which has been 'under construction' for the last decade