Discussion Starter
·
#1
·
OK gang, well with the recent release of Pendle's PCS32 chassis I thought it was about to time to take a deep breath and jump in and go scratchbuilding!
I've never scratchbuilt any slot car before apart from hacking up a Revell Audi DTM to fit on top of a TSRF chassis (it fell off...) so I'm starting from, well from scratch actually...
Back in the days when I owned two TR7's I used to get the Triumph club mags. THere's a fairly healthy racing scene amongst Triumph owners and I also liked the cars that had been cut-down and seriously lightened for amateur racing. This sort of thing is what I mean.
http://www.cptc.org/images/OurCars/Kelby&#...TR4%2009-03.jpg
(I'm afraid the URL has %20 on it for spaces so might not work on Macs - try cut and pasting the URL and replacing each %20 with a single space). When I looked on Hannants website to see what 1:32 kits were available I realised that this would be the sort of thing I wanted to do.
So let's to it!
First problem I found was that Hannants have a minimum order amount and 1 TR4 kit comes in under it. After a bit grumbling I ordered a second reasoning that it would do for spares as I wasn't really sure what I doing with scratchbuilding. As it turned out this was something of a blessing in disguise as the first kit I opened turned out to have a body so badly warped as to be useless. I've straightened out 1:72 aircraft wings before but this looked to be beyond repair. Kit #2 was quickly opened and turned out to also be bad but perhaps more salvageable.
Fortunately these days I most adopt a Seneca-approach to life which is basically to assume that everything will go disasterously wrong, you knew it would in the first place, so lets not bother getting stressed about it.
Here's the assembled body (I will be scratchbuilding a roll cage when I think of what material to use). One of the door panels is warped outwards from the body but I assume that when mounted to the chassis and left there sort of for ever it will be forced to straighten out. Much worse was the section of the body between the bonnet and the dashboard which is badly sagging. Hopefully I've resolved that as can be seen below.
My solution was (once the bonnet was attached) to superglue a length of lollipop stick (left over from an abortive popsicle stick chassis) under the bonnet extending under the errant piece of the moulding and pushing it upwards. Plastic Padding Liquid Metal (expensive, but the best epoxy glue I have ever used) was then used to attach to more securely than the superglue would allow for. Later on in the project I will have to do something to block that airgap between bonnet and bodywork.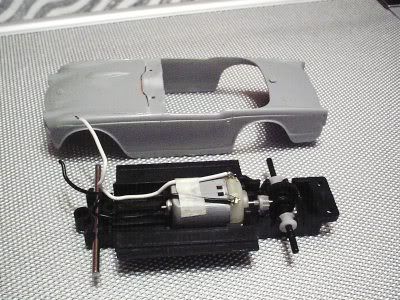 Here's the PCS32 alongside the body. The wheelbase is far shorter than the chassis will allow for in it's default guise but that was just a simple matter of shortening the guide 'slidey bit' with a Dremell. Of course the cutting disc then broke mid dremmeling and of course I had neglected to put the goggles on. I notice that the two times I have not bothered with the goggles I have suffered from a cutting disc fracture. Is some deitic figure attempting to tell me something? (I really hate powertools they scare the s*** out of me...)
The motor and bushings come from a donor Scalextric Jordan (old skool style with the brown traction magnet). Rear axle and crown are from a Fly Capri, but this may change as the mesh seems bad when turned by hand so I may just use the Jordan axle and crown instead. I forgot to pop the Ninco sprung guide in before taking the photo so just use your imagination. Front axle is from a Revell DTM Audi static kit. Obviously neither axle has been cut down for the correct track yet.
Here are the proposed wheels. Two sets of Scalextric Mustang fronts (the rears are wider and taller). These are unpainted because they came from two Mustang kits (I used to race the Mustang at club level and so have several static kits in order to use the bodyshells as disposable and customizable). They look to be a modern improvement upon the original wire wheels without looking up to the minute 2004-vintage.
You might be wondering about the driver in the first photo. Well when the glue on the TR4 was drying I starting messing about with a TeamSlot Renault Dauphine rallycar kit that I have and he's the driver from it.
My original plan was to use a bit of black card with the Scaley Jordan driver arms and shoulders and an open face head that ABSlotSport supplied me with. However I was under the impression that the TR4 is a pure two seater but actually with a rear bench seat it's really a 2+2. This means that the cockpit area is quite large and the black card approach wouldn't work.
While painting the Renault driver I realised that he is ideal for the TR4 but this in itself raises two problems. Firstly this would mean that I have no interior or driver for the Renault and secondly the large cockpit area of the TR4 would still be an undetailed eyesore.
I was in a bit of a bind over this but ultimately a couple of factors won out and Renault-boy will now be driving a Triumph. I decided that since I the TR4 is open it deserved a nice driver figure whereas the closed Renault could get away from something 'lesser'. Also I'm working on the TR4 and not really on the Dauphine so this car gets higher priority.
The plan now is to remove the driver and still black card mount him but scratchbuild up a tonneau cover to cover the rest of the cockpit.
Next stage is, I think, to cut down the axles and test mount the body. I'll be using the balsa wood method for body mounts.
More in the coming week hopefully - I've borrowed a digital camera from some friends so I suppose that is setting the pace and encouraging me to hurry up
Coop