Discussion Starter
·
#1
·
Hello Reader,
I am new to this forum and I always played with Fleischmann Auto-Rallye slotrace system as a child and now we have nice big space where the idea is that we will realize a big wooden track with Oxigen control system. Father and son are looking for a nice hobby. My son also had the idea to set up a local club. Well every now and then you have to do something crazy and we have the space. So let's build a large wooden slot racetrack and who knows, a club will emerge.
After a lot of reading on the internet I naturally came across slot.it. For 99% I'm going for the great slot.it solution. Or someone should share good reasons for not doing this and give feedback on a better plan.
Anyway, below you will find an image of the available space. I could use the light gray area entirety. But one requirement is to place a desk in this room. The plan I have now I use the green areas a slot race area, but as written this is just an idea.
Click for large image: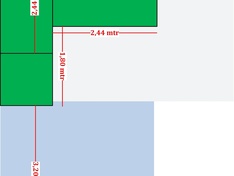 I think the J-Trak system is brilliant because it is so beautifully portable (modular system).
·
http://phantomdrum.co.uk/scalexracer/j-trak/
·
https://slotracer.online/plan/j-trak/
Not that I want to take the track modules outside the room. But I would love if and could change the track every now and then because it's modular. I would like to drive 1/32 but also every now and then with 1/24 cars. The slot track width like Scalextric Sport and Digital tracks are not suitable for this. That's why I'm thinking of a 10 cm slot to slot width. I could realize this (if I go for plastic parts) with ScaleAuto. I did some testing to see if I can somehow scale/translate the track dimensions and bend radius of corners from ScaleAuto to J-Trak approach which is based on Scalextric Sport and Digital tracks. Unfortunately, this was not as easy as I secretly hoped, but it was expected given the different sizes.
Now I am curious if anyone has tips for realizing a wooden track that is also built according to the principles of the J-track modular system? Maybe samples are available? I am open to any feedback.
Thank you very much for your response.
With kind regards,
Neptunus