Discussion Starter
·
#1
·
i started this project in the begining of december as a complete newbie.........with the main intention of making a track with good looking scenery. after a couple of designs i made a track (analouge) and started work on the scenery..........then i found slot forum and put all works on hold
i had a bit of a rant on the sf+members welcome thread....so if you have seen some of this already i apologise for saying it all again...
to give you an idea this is the track i started with the intention of making it look good with scenery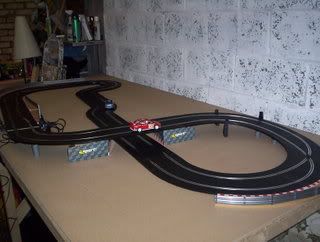 After some heavy reading on slotforum i decided that this track was not cutting it
.........and i needed a serious re-think of my intentions with this project. this mainly came from this topic, and i would advise any newbies to give it a good read :
http://www.slotforum.com/forums/index.php?showtopic=21694
so now my thoughts were: table too small, track rubbish and thoughtless to my new ambitions
.
i've played with loads of track designs taking in to account that i like le mans/gt/touring cars. i added temporalery a few extra feet in length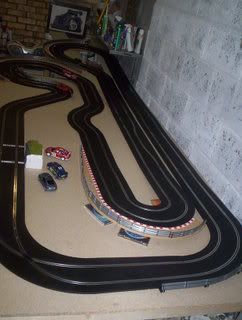 i also changed my attitude towards the project...................maraton....not a sprint
. i told myself 'theres no rush' and i'm really enjoying experimenting
.
heres a few scenery tests that i've done in between track layouts.......
polystyrene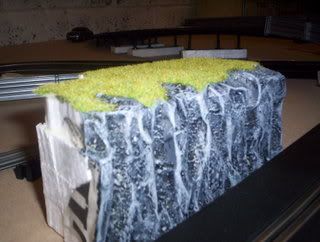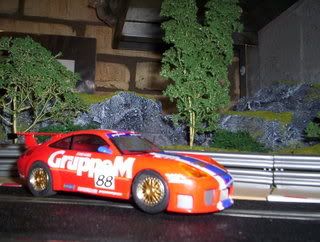 expanding foam
building undercoat plaster (no grass, trees, bushes added to this yet)
after expanding my table from 8ftx4ft to 13ftx4ft pault86 (a member from slotforum) gave me this link for long slim track designs:
http://www.citizensoldier.org/layouts3x16.html
i really liked bonita park and moded it to fit my board
: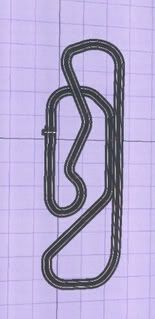 after setting this up and many, many test laps i wanted to add a bit more technical....after a bit of playing i came up with this: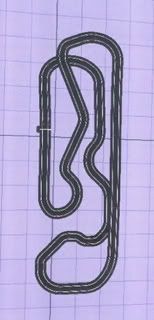 i forgot to mention that i went digital just before trying these new tracks
its soooo much fun
. initialy it was about modeling scenery but the more i read here the more i got into the slot racing side of it, and i could not resist knowing that digi was availible. i quickly upgraded from the 4 car pb to the 6 car pb and managed to get a really good third party psu for free from my brother who works in radio station equipment installation
so recently i've been working on adding a pit lane as i want a rms that incorperates fuel managment....after a lot of reading
i'm going with slot-gp and have a richg cable in the post
. heres a few pics of where i'm at:
notice how i have the elevations opposite to bonita park. this so i can fit a pitlane and garages in under the long straight agianst the wall. also this keeps the most frequent de-slot/crash corners to the front half of the table as its against the wall and a long reach to the back
.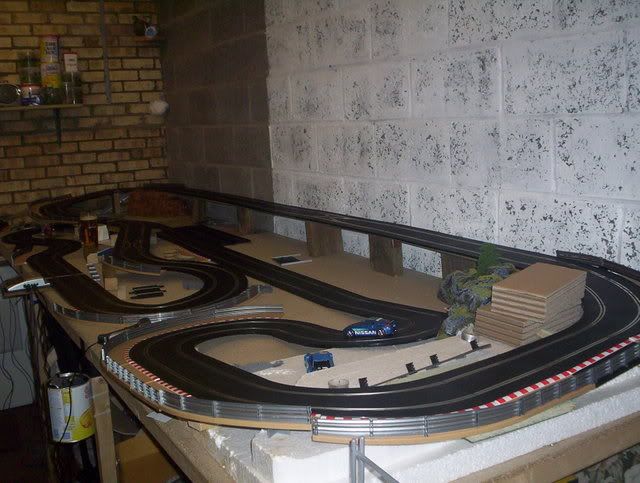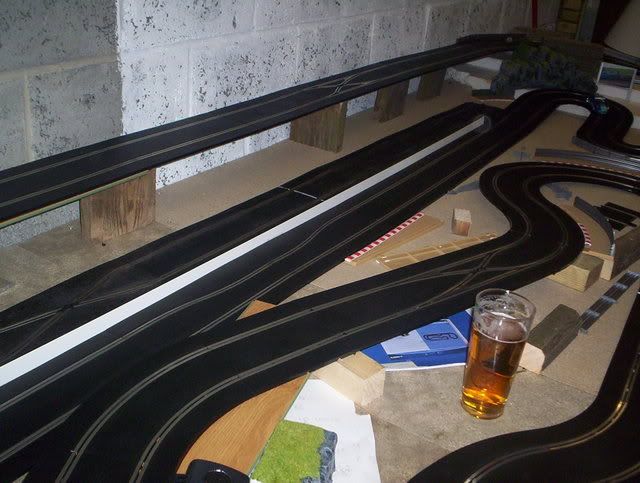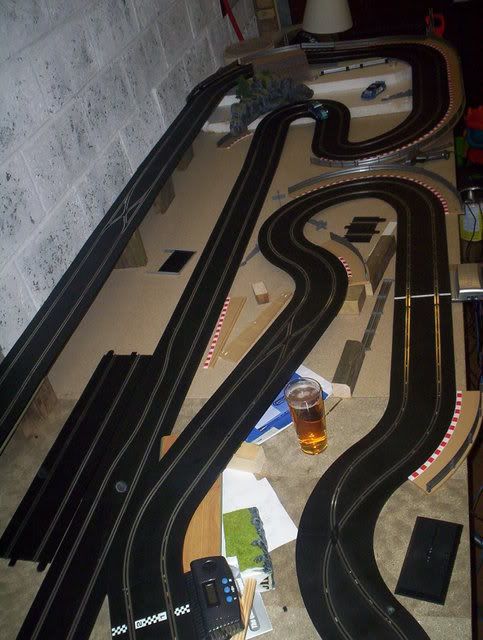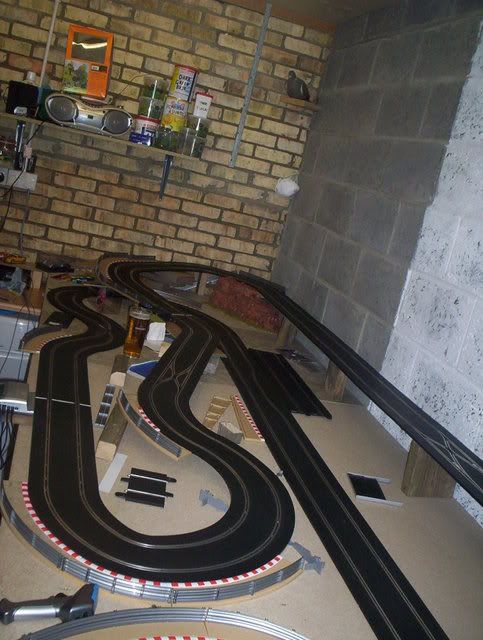 i'm currently playing with the r1 hairpin section and have come up with this: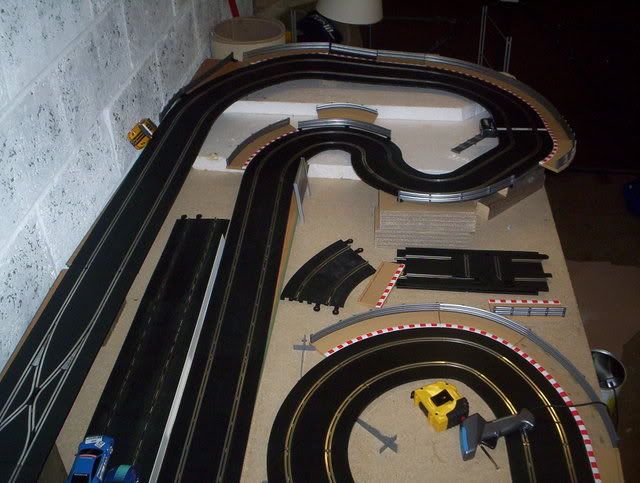 i have every type of bend in here....r1, r2, 1/2 r2, r3 and r4's and have tried to mix them up to suit the track. i've also found how much a little elevation can make a difference to a bend, especially with 2 r1's together
. this really makes the bends a challenge but driveable. current average laps are mid to low 7's with mags at the front. i do intend to go mag free eventually.........adds a whole new level of driving skill.
i'm really happy with this set up and really think i'm ready to make it permenant
. i'm just waiting for a delivery from pendles so i can finish the pit lane and 2 more lcs (1 xlc and 1 clc). once these arrive i will test the track hard with 3-4 racers to make sure elavtions are right. once happy i will make elav's permenant, give seperate power supply to lane changers and a few power taps. i will also do the ms mod for total juice to the lanes!
then the scenery will start........really looking forward to this as this was the basis to the whole project in the beggining.
big thanks to all the pro's in the scenery section for inspiraiton....we all know who you are!
and too all the gurus in the digital section..who come up with the all the mods, tests and how too's..we all (digi useres especially) know who these are too
rant over!
all opions welcome