Ok I've tried out a possible layout for the baseboard the problem is to fit a reasonable amount of track and loop on the board
This is an idea
The righthand half
and the left half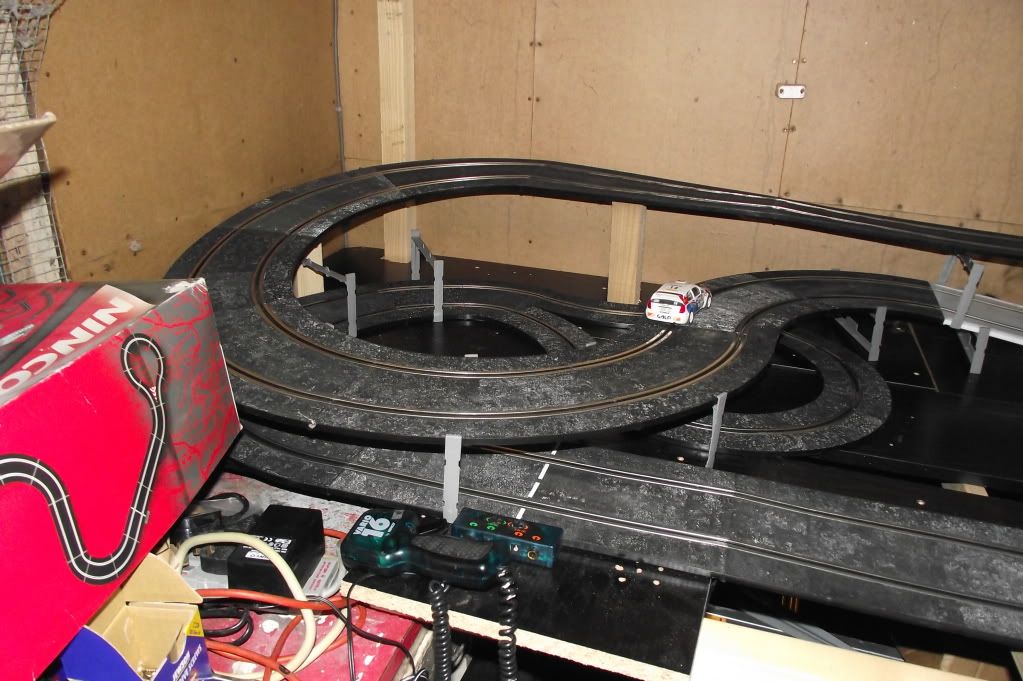 If I went with this the front left would probably be done as a tunnel and the drop over the loop as a bridge.
Here's a couple of clips of a test run
Test video 1
Test video 2
Test video 3
Had to take it easy as no barriers or borders and it's a long drop
This is were I could do with some help and advise with painting the track. I think I will try Plasticote Stone finish paint for the raised section of the track as this will be tarmac road and also for the normal track on the baseboard but in the light grey colour or even the pinkish one as this will be gavel road surface. But I need to paint the snow track I still want to keep it slippery as I intend to paint it brown / sand to represent mud/dirt track. As can be seen in the video at the moment it is way to slippery (I run most of my cars without magnets). As ideas on a paint type available in the UK that will give the snow track some slip but will not have a glossy finish and will stick to the very smooth shiney plastic. I Think I may have to try some of the paint designed for respraying car bumpers as a primer?
I'm also hoping that a layer of primer and Plasticote will help reduce the rised hight of the rail in the Ninco track as I find that 2 of my cars, Revell Mk1 Cortina and SCX Mini, catch on the track in places as the have very little clearance (the Mini would not run untill I removed the magnet).
I think for the gravel areas I may put a little filler on the track so its not to smooth and may be the odd patch on the snow track
Any ideas and advise would be welcomed