Discussion Starter
·
#1
·
It's been a while since a gratuitous book plug, so thought that I should make up for lost time or I'll get double parked!
Following on from my previous books in the Haynes Manuals series on classic racing cars, in 2019 the Audi Quattro Group 4 and Group B book came out. It was a real joy to do as my best friend's father at primary school worked for VAG and when the first press Quattro was available in the summer of 1981 he borrowed it and took us for a spin. Our eight-year-old minds were blown, and then shortly afterwards Hannu Mikkola won the RAC Rally and that was that, we were hooked.
Found out loads of useful stuff about the cars along the way... like when to use the capital Q (for the original long wheelbase cars only), and when to use a small q (from the first SWB onwards to the present day). Before interviewing Michèle Mouton I saw a bit of a pattern that in the 1982 season, when she so nearly won the world championship, she lots about 22 potential points because of team decisions that favoured her team mates (who had no mathematical chance of beating Walter Röhrl), she was very amused, because apparently nobody's ever asked her about it, but only said words to the effect of: 'If that's what your research is telling you then I can't argue.'
I saw all three of the genuine ex-works cars in this country at the time and photographed them in detail for the tech sections, and numerous lovingly-crafted replicas that now grace rally events across Europe, most of which have genuine parts fitted. Modern day WRC hero Jari-Matti Latvala's got two works-spec replicas that he uses to take part in historic rallies, and he was happy to talk about them.
Here are the a couple of the genuine cars - a fourth one is just about to arrive in the UK, first driven by Mouton in 1984. First up is a car that's been made by Fly this year, the China Rally car driven by Andy Dawson and Ian Pegg. It began life as Walter Röhrl's 1984 Monte Carlo winner. The other China Rally car (modelled by both Team Slot and Fly), which won in 1985 with Hannu Mikkola and again with Stig Blomqvist the following year resides in the National Motor Museum at Beaulieu - and was originally Blomqvist's winning 1984 Argentina car.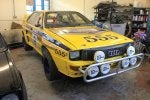 Next up is another Röhrl car, which was originally fitted with the clutchless Porsche PDK gearbox in late 1985. It won a round of the Austrian national championship when they were testing it, then it came over for the RAC Rally and was completely destroyed. The factory put it back together (minus PDK) and it's been an Audi UK show car ever since.
Following on from the Porsche 956/962 and the Quattro, my 'turbo trilogy' has been completed this week with the Peugeot 205 Turbo 16. This one should be out in the autumn, possibly before, with everything that you might wish to know (and probably some stuff you didn't!) about the little French car that became the only purpose-built Group B car to win the WRC. Lots of new content, including long interviews with the likes of Vatanen and Kankkunen that have made it a very special thing to have done.
For this one there is a section on slot rallying... because you can't build a replica 'Deux cent cinq Turbo seize' quite as easily as a replica Quattro!
Anyway, there you are... available from your preferred book retailer. Thanks for looking.