Discussion Starter
·
#1
·
I have a collection of cars that came out of no where over time. At least that's what I tell the better half. Some don't run. Others run slowly just from sitting and collecting dust.
It's time to see what these are made of. It's all a bit new to me. Model Murdering already helped me rebuild the T-jet Dino in the back row. Thanks a million MM! One down... many to go.
The Jeep also didn't run. I wondered what was inside? Some nice black stuff on the armature.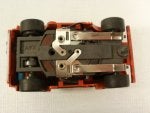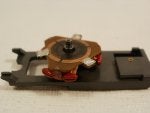 The chassis was washed with dishwashing soap until it sparkled. The armature was cleaned up. The brushes were lightly cleaned with 2000-grit sand paper. The armature pole readings were 14.6, 14.6, and 14.7. The chassis was re-assembled, but without the middle gear. Mr MM suggested to first test motors for vibrations without the transfer gear. I applied power expecting miracles, and nothing happened. The motor barely turned. I gave the drive gear a twist with my fingers, and it started to spin up. But it was labouring to rotate. Upon futher examination I noted the main top drive gear leaning to one side. I thought I assembled it wrong. So I took it apart and checked all the locking tabs. It can't be installed any other way. The hole in the plate isn't sloppy with excess play. It seems it was drilled way off center from the factory a bazzillion years ago. Warranty still in effect maybe?
I can twist the chassis with my fingers until the car is totally distorted to make the gear straighen out. Clearly not the solution to this problem. I'm not sure what to do about this one. I think the Jeep is kind of cool. It has nice mags.
Any suggestions to save this old Jeep and chassis are most welcome. Thank you very kindly in advance.
Ken