After suffering the ignominy of defeat in Round 1 of Sunchaser 2009, beaten by the Kingie's nickel-plated brass PAN chassis, the revolutionary tone of the following build takes on a new, fiery passion. A new order! Sweep away the corrupt regime! No leaders, no more heroes. Progress through collective effort....
So I made an effort to collect a few tools.
This is the way the new era dawns. An innocent scrap of 0.6mm brass waits to be hammered, beaten, and generally abused. A symbol of the oppressed masses.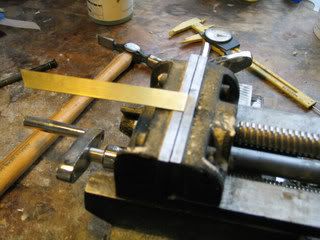 But the proletariat is not afraid of a little violence to bring about the necessary change. A scribe mark is struck across the brass strip, using the Engineer of Human Soul's sturdy steel square. The brass is fastened firmly in the vice of oppression, and it bends to the will of society. A perfect right angle symbolises our glorious change in direction!
The labour has only just begun. We need not just a change in direction, but a whole U-turn! We have to resolutely turn our backs on the past! Another bend. We use a block of our honest native timber, carefully fashioned to the width of a motor and squared to prescision under the patient eye of the worker.
We have turned another corner, comrades! But we have gone too far. We need to balance the left and right flank of our glorious advance.
The People's tinsnips are darkest black, and utterly ruthless.
Next, we remount our faithful hardwood block, and go through the drill. A pilot hole...
Then a 5mm hole for the axle tube. Keeping the block mounted we can flip it in the vice and drill the opposite side in the same way, and be sure of alignment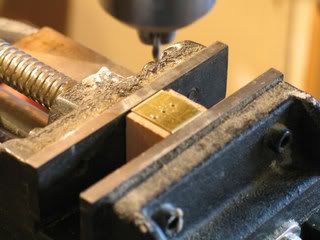 Next, we flip the block to show the middle face, and drill pilot holes for three more critical positions. These are the shackles by which the irresistable force of the powerful Motor of the People will be united with the trustworthy Chassis Contraption of Collective Power (Henceforth to be known as the C.C.C.P)
Some enlargement required to the centre
We decree that in the glorious future ALL holes will be drilled slightly undersize, so that perfect circularity and accuracy may be achieved with the People's Reamer.
The bearing tube is prepared! The only acceptable way to cut brass tube under the New Regime is to take a rusty old Stanley Knife and roll it around remorselessly, until the hardened brass gives way to the will of the people.
There will be much more of this rubbish. You have been warned. Especially you of the Old Regime. You will NEED to know what is happening outside your supposedly impregnable castle. But it is too late to pull up the drawbridge....