Discussion Starter
·
#1
·
Hi all,
Second thread here, this one I think is going to be a little challenging!
My Dad brought over the rest of his old slot car stuff (I'll be selling the Airfix track and controllers) and I want to restore the F1 cars, see pics below.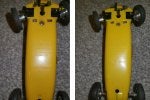 The restoration I can handle pretty well, but what I want to try and do is mod them to run on standard Scalextric track. The groove on Scalextric track is slightly narrower than the old Airfix stuff, so I know I can probably just shorten and thin down the spindles.
HOWEVER... I don't want to go the easy route. What I'm wondering is if its possible to replace the braids and spindles somehow with an actual Scalextrix slot guide.
Has anyone ever done this? Or if not, any ideas on things that I could try?
Not opened them up yet, but will post photos of their guts when I do.
Open to any ideas!
Thanks