Discussion Starter
·
#1
·
Morning all.
My usual preference in slots is for rally cars, but following a conversation with my father in law, who grew up with the 60s California racing scene, I did some reading about the Can Am series and decided that a couple of Can Am cars would be a fine addition to the collection.
Father in law had talked about the Mclaren M6A, so I decided to buy Revell's version for him, and picked out Revell's Chaparral for myself. Two cars from the same maker, models from the same era, same race series, I figured the two cars would be a nice match on the track.
Both cars arrived (unfortunately I Ebay'd), and both are gorgeous little cars, nice level of detail and a beautifully matched pair.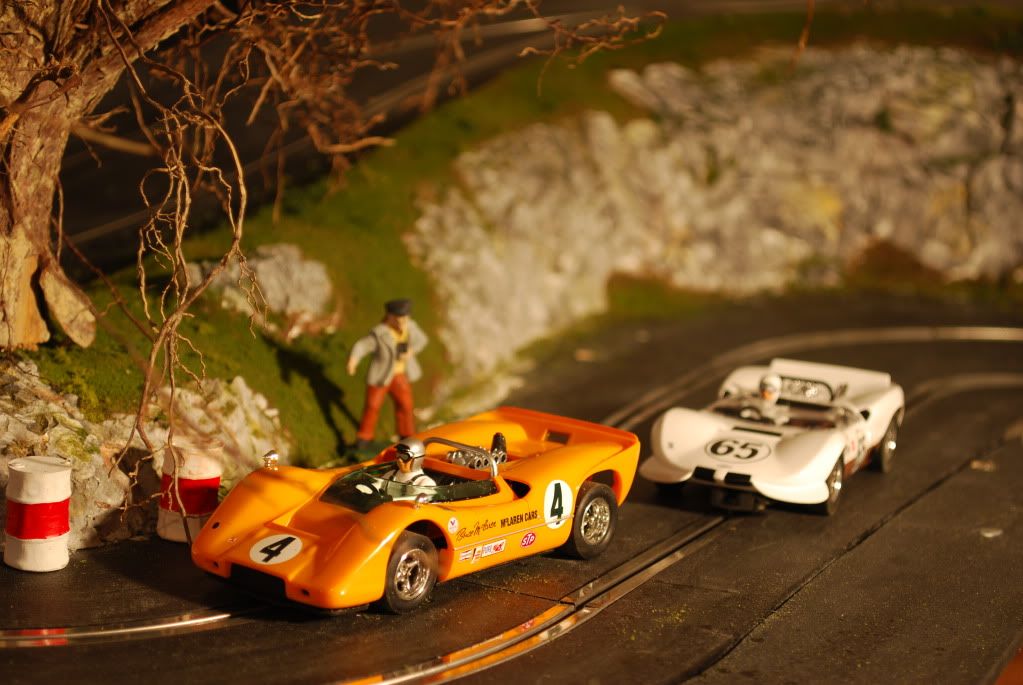 I first ran the Chaparral, and it is a quick, smooth and grippy little car. I left the magnet in and did a few laps, and was suitably impressed.
Next out of the beautifully appointed display box was the M6A and ... it was terrible. Very glitchy performance, very low grip, getting stuck in places that the Chap sailed right through.
The first thing to note is that the two cars do not share a similar chassis. Forgive me if I get the verbiage wrong, but the Chaparral has an in line motor, while the Mclaren has an angled driveline. The magnets are different, and in different locations, and though the Mclaren is adjustable, it is not as strong. The guides are different, with the Mclaren's being deeper and squarer in shape, and the pick up braid connections are further through the guide, so the braids do not sit flush on the surface of guide. Also of note was that there is a moulding on the bottom of the chassis, used for mounting in the display case that sits very low and drags on my track in a couple of places.
So I want to fix this - at least tune it so it is competitive with the Chaparral in bone stock form! My initial reaction was to send it back, but I am a sucker for punishment ... I have never tuned a slot car in my life, so figure this is a good place to start. Any help you guys can provide would be much appreciated ... ! I guess I don't really want to start changing motors and tyres just yet, but would really appreciate some guidance on what can be done initially to get a slot car running cleaner.
So far I have tried -
1. I took the body off (it was glitching so bad I was looking for broken electrical connections) and noticed that it didn't fit the chassis neutrally. Leaving the body screws a little loose helped a little with smoothness. I believe the chassis was being arched, making it drag it's belly.
2. Reprofiled the pick up braids to improve connection with the track. Again, helped with connection, but quickly degrades. The connections needed to be pushed back flush with the underside of the guide, but I am concerned this will exacerbate the length of guide issue.
Thanks in advance for any guidance, I just wish that Revell would make all their Can Am cars on the same chassis ...
Cheers,
Whit.