Discussion Starter
·
#1
·
Hi guys,
I'm after some advise, on constructing a 'Richard Mack' chassis. I recently purchased one from Dave Farrow, and I'm a litle bit stumped with which parts need soldering together? The questions relate to the picture above them.
Very kindly, David supplied the car with most parts in position, and held together with sellotape, which has helped a great deal. This is how the chassis came:
Firstly, the pillar blocks seems designed to fit oilite bearings, which is fine, and then can be adjusted in their position to get the required ride height. However, as you can see from the picture, there seems to be other pillar blocks, which have cut outs at the bottom in various positions, which I pressumed was to adjust the wheelbase. However because this will bring the motor out of line for the gear mesh, I cant understand what these are?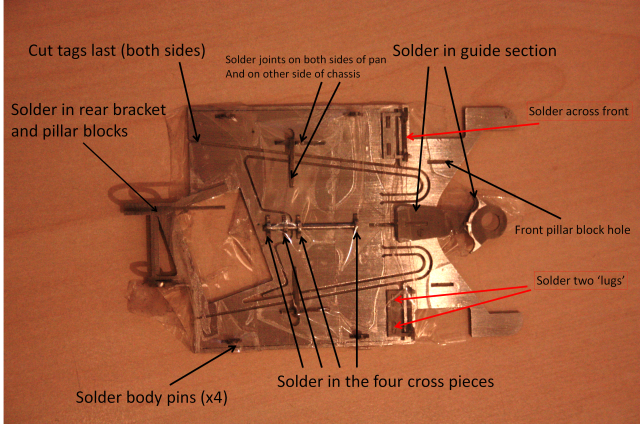 Secondly, I've made this diagram of where I think the chassis needs soldering. The black arrows are joints that I am confident need soldering (However Im willing to be advised
) and the red arrows for solder joints Im not sure if that is the correct location to solder them. Also, am I missing any joints that need soldering? Any advice would be greatly appreciated.
Finally, as the rear pillar blocks cant be moved the adjust the wheelbase, I pressume this has to be set from the front ones only, which also have slots cut in? Am I right in thinking that?
Hope you can help!
Regards
Jon