Rover had been involved in developing the jet engine with Frank Whittle during the war and had developed several prototype road going gas turbined cars and a range of turbine engines during the 1950s and 1960s. In 1962 they demonstrated one of these cars at Le Mans which gave the race organisers the idea to offer a prize for a turbine car in the 1963 event.
Rover decided to take up the challenge and considered both Cooper and BRM as a partner to construct the car for their engine. Mutual business interests dictated that BRM should get the job and in a matter of just three months a prototype was built in time for testing at the Le Mans test weekend.
To create the car BRM cut the chassis of a 1961 BRM P57 grand prix car in half and widened it to accommodate a two-seater design. The original F1 cars front and rear suspension set ups were retained although larger brakes were fitted as the turbine wouldn't provide any engine braking and they fitted some bigger old stock Dunlop wheels from their P25 2.5-litre grand prix cars to accommodate these brakes.
The car ran extremely well throughout the test, practice and the race averaging 107.8mph and covering 2,592.8 miles in the 24 hours.
To carve the shell I used balsa wood, the Walkden Fisher drawings from Model Maker magazine and various photographs from my reference books including, "Turbine Grand Prix" by Gerard Crombac and "BRM, The Saga of British Racing Motors Volume 2" by Doug Nye.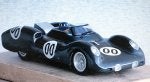 The finished shell which I sprayed in Maserati Rifle Grey. The wheels and inserts are from RS Slotracing. Decals and driver figure from the spares box. Bonnet strap is masking tape and fine wire and the windscreen wiper is very thin brass strip. The exhaust duct is very thin plastic sheet.
David