A new track is under construction and this thread will follow this project. I will not be as fast as sig and I will not be as meticulous and patient as Brad. I hope to have the track minimally acceptable in 1.5 months (the scenery will not be fully complete but it will be serviceable). All comments and suggestions are welcome.
My experimentations with a Dakar Off Road track some time ago made me realized that I liked rally tracks having the off road spirit but passable by the regular rally cars. This lead naturally to consider a rally track with the theme of the East African Safari rally. Here is my previous build with this theme.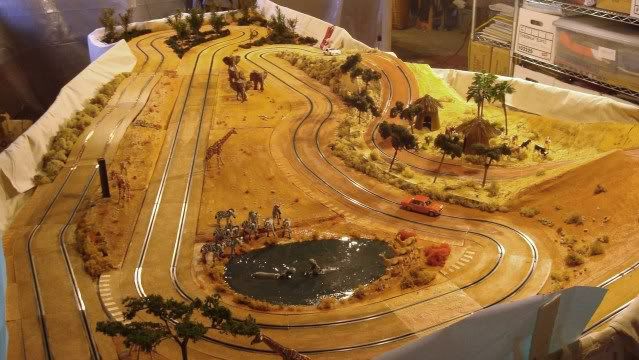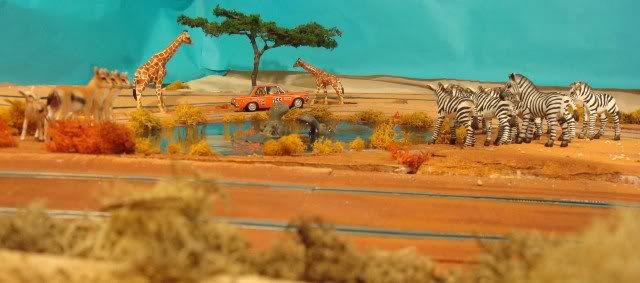 For this new project I want the cars to drive through the scenery, have a "topographic" track with invented driving elements and modular. This forces me to have to use materials other than plastic or wood for the track.
I also realized that I want a track with two lanes and not just one lane. I want the possibility to race with someone else and have two people enjoying the track simultaneously. Another key feature I want is to have the two lanes to have different elements in some parts of the track. This will make me have 2 different tracks to enjoy when I am racing alone (actually 4 by changing the direction). I also want a looong straight.
Here is a layout I design with Ninco pieces that I am using as pointer to my build which will not use Ninco pieces with the exception of the long straight.
The track lies on top of 3 tables: The left one is 7'x6', the center 5'x8', the right 8'x4'.
The middle and upper left side will be town, the center will be the Savannah, the right side will be the hill region with a small lake. The long straight is 4.8m long.