Discussion Starter
·
#1
·
Started working on a new track a few weeks ago. I would like the new track to include.
1. More table area, current track is on an 8x4ft table so new one should be atleast 75% bigger.
2. I can spread things out a little more and have the road surface be wider in places.
3. Include some manual switches (like my first track 4yrs ago) to allow for more than one track to drive.
4. Have less detailed scenery than the current table is bigger and money is tighter, so look for cheaper alternatives to the smaller track.
5. Transfer current houses, timing/electricals, trees to the new track.
6. Have table take up less space in the garage even thou it will be a bigger table.
7. Have more elevations, than the current rally track, more like the old San Phoeno Raceway.
8. Design to have some longer faster flowing sections to break up some of the up and down of the current design.
Frame is made from 65mm x 10mm pine and track surface is 2 sheets of 3mm mdf. It was free, but has worked out pretty well. See point 7 above.
Once the frame was built, I started at one end and worked towards the other, doing the elevations as I went.
Basically the hills will be around the outsides of the table with the village of San Phoeno in the valley on the flat bit.
Left End.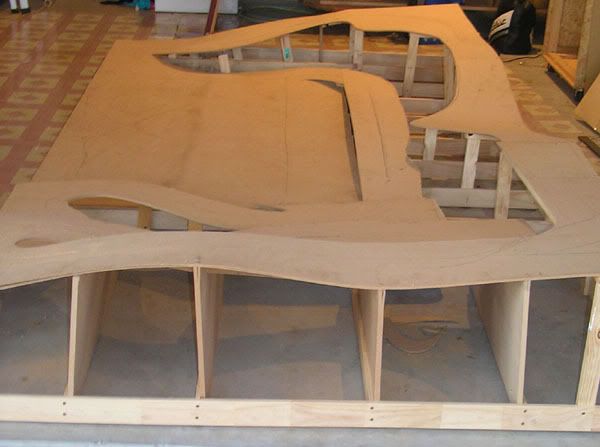 From the right end.
From the left end.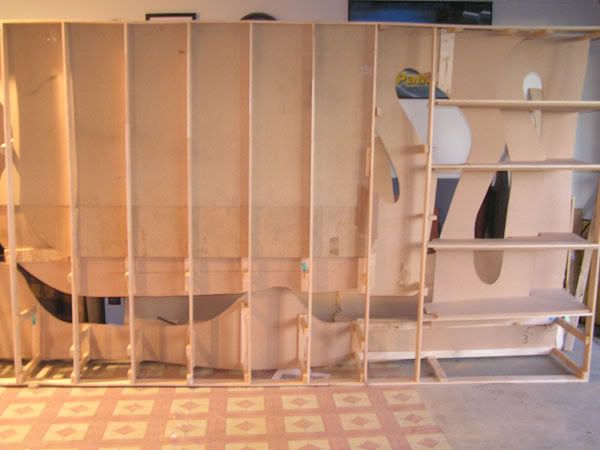 Underneath. I did the ribs in a different direction on the right hand end as the road runs North-South it comes back down from the top.
Had an extra 30 minutes this afternoon so got some of the routing started.
Am using the trusty hose for the tight bits and the black strip for the more following bits.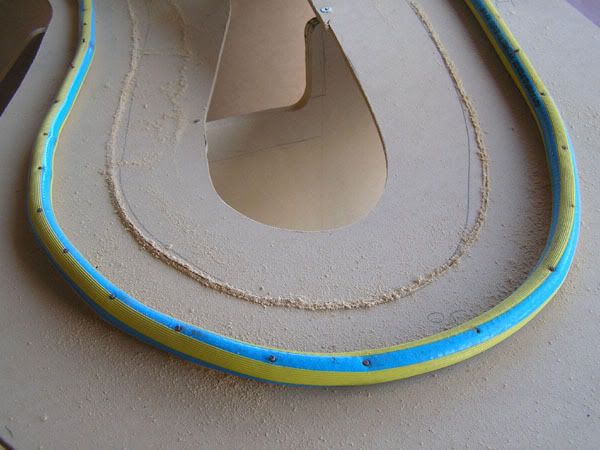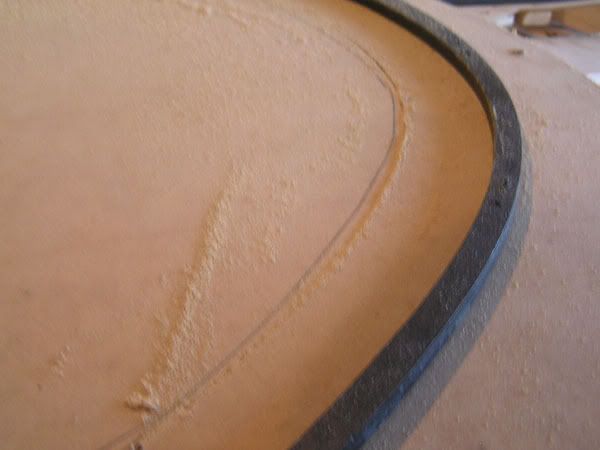 Will get the routing finished and the road surface painted next week. hoped to have it taped and powered up over Easter, all going well.