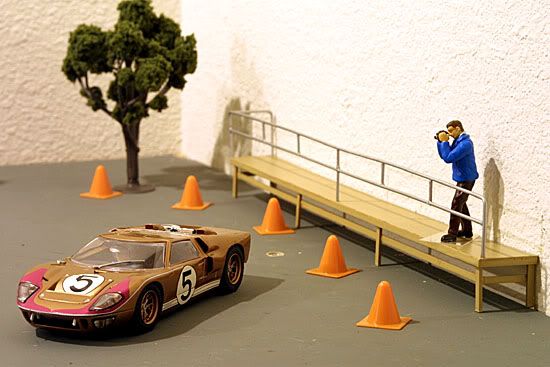 I built/painted this tonight. It's a photo position at the end of the straight away. OK, now before you say it...there will be a FENCE in front of it in the near future. It's all styrene rod and sheet. I painted the floor of the platform with flat brown (to resemble all those platforms I've shot from in the past, and yes it's suitably bouncy to annoy the photogs that have to shoot from there).
Here's that end of the track (still sans-fence but don't worry). It's entirely possible that many if not all of the trees you see here will be replaced by Palm trees, but I haven't bought them all yet.
BTW, the photo was taken with a Canon D30 digital camera on a tripod at 15 second exposure at f20, with tungsten white balance at 100ASA.
DK