Discussion Starter
·
#1
·
In response to my query (on the SCI board) as to the release date of Slot.it's Porsche 962, Maurizio Ferrari replied:
"The Porsche 962 (in the 'Blaupunkt 1988 3rd Le Mans') will be the next release after the P956 NewMan (about to hit the shelves) and the P956 Spirit of America (which will be out approx mid September).
The 962 moulds are ready since a long time ago."
That's great news Maurizio, thanks!
As a matter of interest, for those that don't know, Porsche wanted to race their 956 in the IMSA North American series but it was deemed illegal because of its water-cooled engine and the fact that the drivers feet were positioned ahead of the centre line of the front axle.
Porsche therefore built the 962, an "IMSA version" of the 956, using the air-cooled 935 engine and with a longer wheelbase, placing the driver's feet behind the front axle line.
The 962 first raced in the 1984 Daytona 24 Hours, driven by Mario and Michael Andretti. It qualified on pole, alongside the all South African Kreepy Krauly March 83G of Sarel Van Der Merwe, Graham Duxbury and Tony Martin (soon to be released by Revell-Monogram).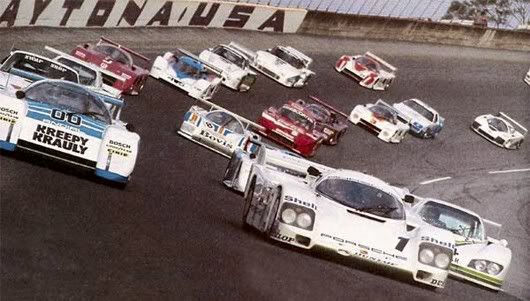 The 962 retired with engine and gearbox problems and the Kreepy Krauly car went on to win the race. Kreepy Krauly is a South African manufacturer of automatic swimming pool cleaning "robots".
By mid summer Porsche fitted a 3.2-liter injected turbo 935 six-cylinder engine and the larger engine, along with short tail bodywork, turned the 962 into one of the most successful racing cars ever.
Porsche built a great many of these cars -- 962-001 through 962C-016 were works chassis and 962-101 through 962C-177 were customer 962's, so there were literally more than a hundred liveries or variants of liveries that could be reproduced.
With kind regards
Russell