Having just received the new Blaupunkt 962 I decided to I compare it with the other Slot.it Porsches to see if there was any differences (NOT a scientific test!)
First I I took (naturally!) the mag out which, compared to the 956 Kenwood, is now placed in the rear of the motor near the rear axle. The 962 motor is an endbell, the 956 is a can.
The distance between the rear axle and the pick up is the same: 96 mm, but the Blaupunkt front axle is 2mm further in front.
I put the car on a vintage Dynamic test bloc and run it for 6 min. at 3 volts after I oiled the bushing, greased the crown with Tamiya Ceramic grease and put a touch of VooDoo comm drops inside, on the commutator (there is a small hole on the top of the motor that allows that).
More lubrication and another 6 min at 5 Volts.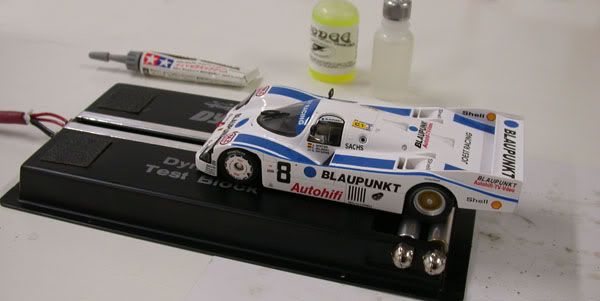 I sanded lightly the tires of the 962 and cleaned the others, checked that they were all touching perfectly on the track and away we went on the middle white lane (the most balanced):
the Kennwood one is the smoothest, more consistent over laps and has the quickest acceleration, probably due to the fact that it was well used and broken in ( P2 tires);
the New Man is definetely the most silent one, a lazy one, honest in how it responds to input but it slides too much to be able to make good laptimes (tires OEM Good Year);
the Spirit of America is the most agressive one, it has that "well born" 1 in 10 motor, violent power delivery: you have to be careful with the throttle, on your toes kind of driving, (tires OEM),
the Blaupunkt is noisy, very noisy, compared to the others it has a sort of "plastic" noise that resonates from the body, very very vorgiving while you come in to a tight curve and out accelerating, it seems to be the most stuck down but then it suddently lets go almost like the cars that have a magnet. (tires OEM)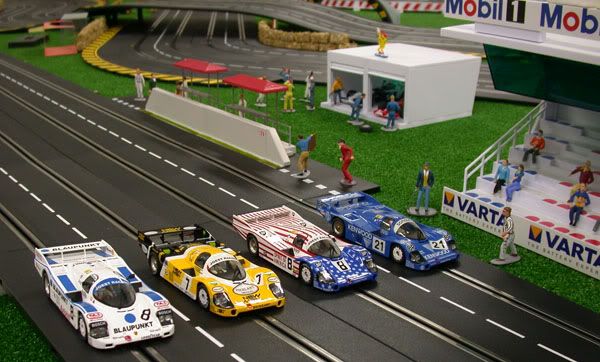 Any similar experiences?
Best regards
Edo
It would be nice to know which kind of tires the latest OEM are, equivalent to P2, P3 or maybe the new P4?