We are back!
Slot Racer Magazine is the very best, fully independent magazine available for slot car racers; from the occasional home racer, to the professional club racer.
The July/August 2011 issue is, without a doubt, best edition of the Slot Racer Magazine so far! The 36 pages feature a brand new layout, include the following articles, and new feature's!
The New Features Include!
•
'Access All Areas'
: The latest news and releases from the slot car world,
•
'Incoming'
: The latest releases, and the cheapest places to buy them!
•
'This Month's Club'
: Phil Barry from Wye Valley Slot Car Club writes for us about slot racing in Wales.
•
'The Scrutineer'
: Our very own man of mystery writes for us each month with his opinions of the latest gossip!
In this months issue!
•
COVER STORY: Porsche's Worst Nightmare
, we pit the new Slot.it Toyota 88c, against it's big rival, the Porsche 956c. How will the all white Japaneese car cope!
•
TeamSlot Audi Quattro Review
, TeamSlot's latest releases gets a thrashing on our test track, Is it the best Quattro yet?
•
'Blast from the Past'-The Story of Joeuf:
, Kevin Owens writes for us about his passion for Jouef cars, and his layout!
•
PCS TT and Saloon Car Race in Colchester
, our Event Review this month comes from the PCS Tourist Trophy and Pre 1969 Saloon Car Race Kevin Owens writes for us about his passion for Jouef cars, and his layout!
Each issue of the Slot Racer Magazine is currently available online, and we are finally pleased to announce that the Slot Racer Magazine will finally be available in printed format! This is great news, and we will be posting more details very soon!
Also, we have removed the white borders around the magazine, which was hampering the viewing pleasure of iPad, iPhone etc users. Well we have listened, and they have been removed!
For just £15, you get one years full subscription to the Slot Racer Magazine, giving you 10 issues per year. This works out at just £1.50 per copy!
You can subscribe to the magazine by visiting the website: www.slotracermagazine.co.uk

The Cover for the July/August 2011 Issue



The Contents Page, featuring a snippet of our new design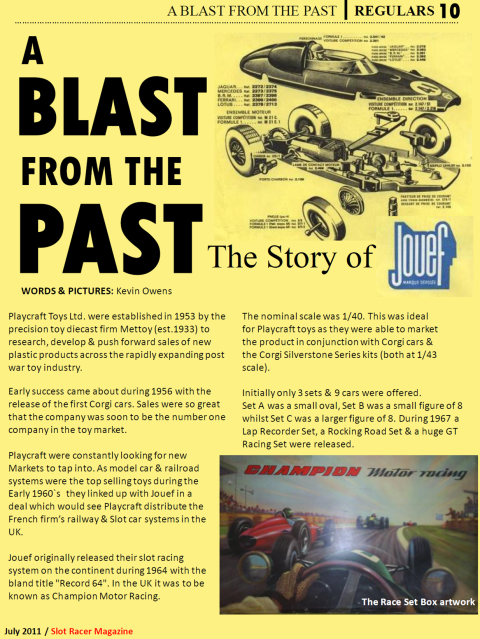 'Blast from the Past' - the story of Jouef slot cars!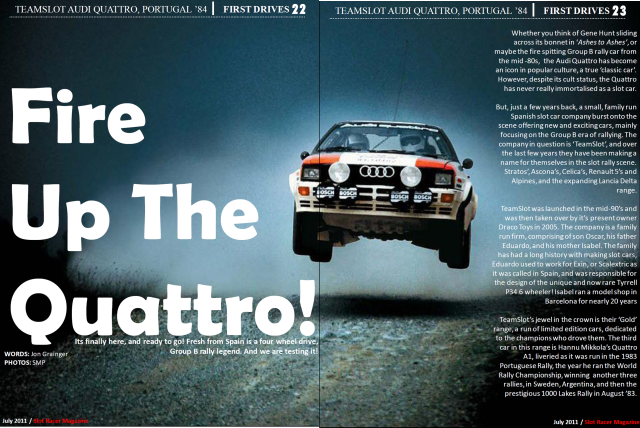 The Audi Quattro review page
Regards
Jon Grainger
Editor-In-Chief