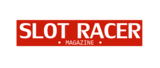 It has been a very hectic time of late, mainly because we have been getting used to a brand new design program for the magazine. This not only means the magazine will be easier to produce, but also even better looking aesthetically!
In preparation for the issue's launch early next week, we have prepared this SNEAK PREVIEW of Issue 4, exclusively to SlotForum!
In the coming issue:
Toyota versus Porsche, on our track!
TeamSlot Audi Quattro review
All the latest news and event reviews
The Cover for Issue 4,
Toyota 88c Versus Porsche 956c, on our track!
Along with some of the new features, starting in this issue!
This Month's Club
'The Scrutineer' - our brand new contributor, gives his insight and views on the latest news and gossip from the slot car world!