Discussion Starter
·
#1
·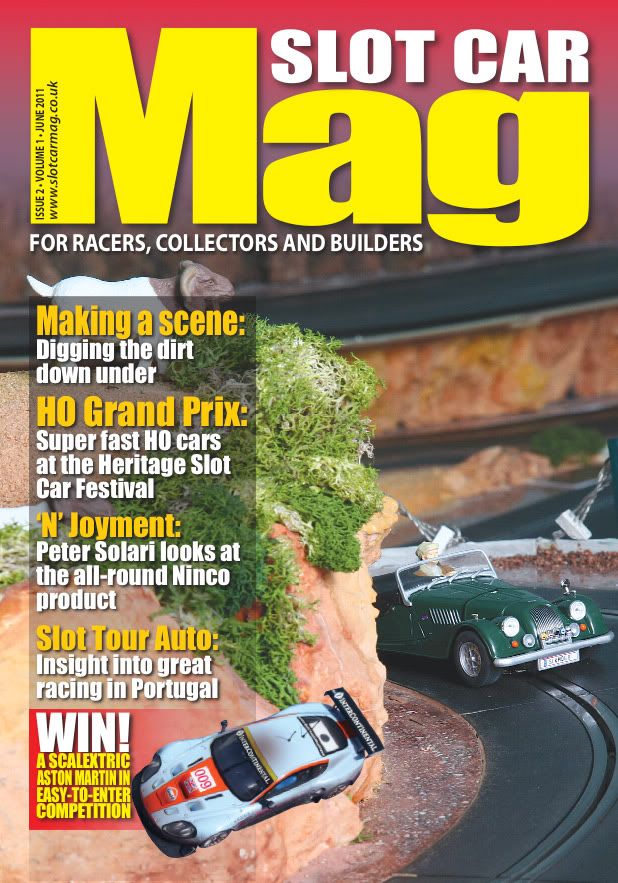 The issue 2 Hard Copy is available from Lulu as from now.
Sunsetman will endeavour to get the pdf link up and running ASAP.
In this issue:
Pit Board:
Hello again!
A look at The Slot Fest at Gaydon, plus, we have another great competition... this time to win a fantastic Aston Martin, courtesy of Scalextric.
Making a Scene:
Digging the dirt down under
Lynne Haines shows us how simple things like dirt can be used to transform the look and feel of your race track.
'N'-Joyment of Ninc
o:
by Peter Solari
Peter Solari loves the Ninco brand and takes time out to tell us just why he regards it as the best all-round slot company in the business.
Foreign Affair:
The Slot Tour Auto 2011
Rui Costa gives an insight into a fabulous weekends racing on a multitude of different track types and surfaces.
Stripping!:
Graymalkin continues his NasCar relivery
Part two of Richard's work on our Nascar, where he takes us into the realms of stripping back to the bare body.
HO Grand Prix:
2011 UK Slot Car Festival report
Alan Player gives us the story of the biggest little slot car race at the Festival and also reflects on the impression the racing made on visitors.
That's a slot car, that was:
Speed is the key with BSCRA cars!
Most people that race Scalextric type cars have no real conception of how fast these hand built BSCRA cars can go... Nick Thrower explains all.
Club Focus:
Tyneside Slot Car Club
Stephen Owens takes time out from racing to tell us all about a new club racing 1/32 scale cars on a routed track in Newcastle-Upon-Tyne.
Dilworth's World:
Scientific study at The University Of Ilfracombe
Yes, there really is a scientific way to understand the difference between a slot car collector nerd and a slot car Neanderthal racer.
Happy reading
ABBO