Discussion Starter
·
#1
·
As the Policar GP nears I started to look for a nice car for my son to enter in the scrathbuild and compatible chassis race on the Saturday.
Given that there are still so many March 761/771 models being released I thought i'd get him one of the No.10 Brazilian GP 1976 driven by Lella Lombardi. Nice and bright and a woman driver!
I thought i'd share the quick build with you whihc follows my how-to. Took me about 3 hours and now my son has a lovely car to race.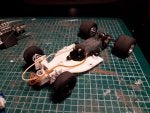 Cheers
Andi